Sun & Ski Inn and Suites is a hotel in Stowe, VT with a peaceful mountain setting offering free breakfast, a pool, a hot tub, a fitness center, and a unique 8-lane bowling alley with an on-site restaurant. 
Sun & Ski Inn and Suites Deals
Are you looking for deals at the Sun & Ski Inn and Suites? Subscribe to our email list for any updates on deals as they appear.
Badges Earned: Free Wi-Fi, electric vehicle charging, restaurant on-site, bar on-site, winter pool, located on shuttle route, pet-friendly.

Property Details & Staff Comments
Sun & Ski Inn and Suites is a family-owned hotel in Stowe, Vermont bordered by the Little River and shadowed by Mount Mansfield, offering a peaceful mountain setting. Plenty of different types of accommodations are available at the Inn, from rooms with a single king bed to rooms with two double beds. Some of the rooms even have patios, and there are rooms that are designated explicitly as ADA-accessible. In the morning, wake up to a complimentary breakfast "Snack Box" that comes in three different offerings: the "Fresh Start" box, the "Power Start" box, and the "Kids and Teen" box.
With both the Stowe Recreation Path and the shuttle to the mountain within walking distance, the hotel is great for outdoor enthusiasts. The hotel pairs all of the classic amenities – like free breakfast, free WiFi, a pool, a hot tub, and a fitness center – with more unique ones, like their 8-lane bowling alley. At the bowling alley, there's also a restaurant, where guests can enjoy comfort food at the lanes, at the bar, in the restaurant, or in their hotel room. With great amenities, on-site activities, and an onsite restaurant, Sun & Ski Inn and Suites is a great option for families or small groups looking for a fun, comfortable place to stay in Stowe. 
Sun & Ski Inn and Suites Location Info
1613 Mountain Rd
Stowe, VT 05672
Sun & Ski Inn and Suites FAQ
Compare vs Nearby Stowe Lodging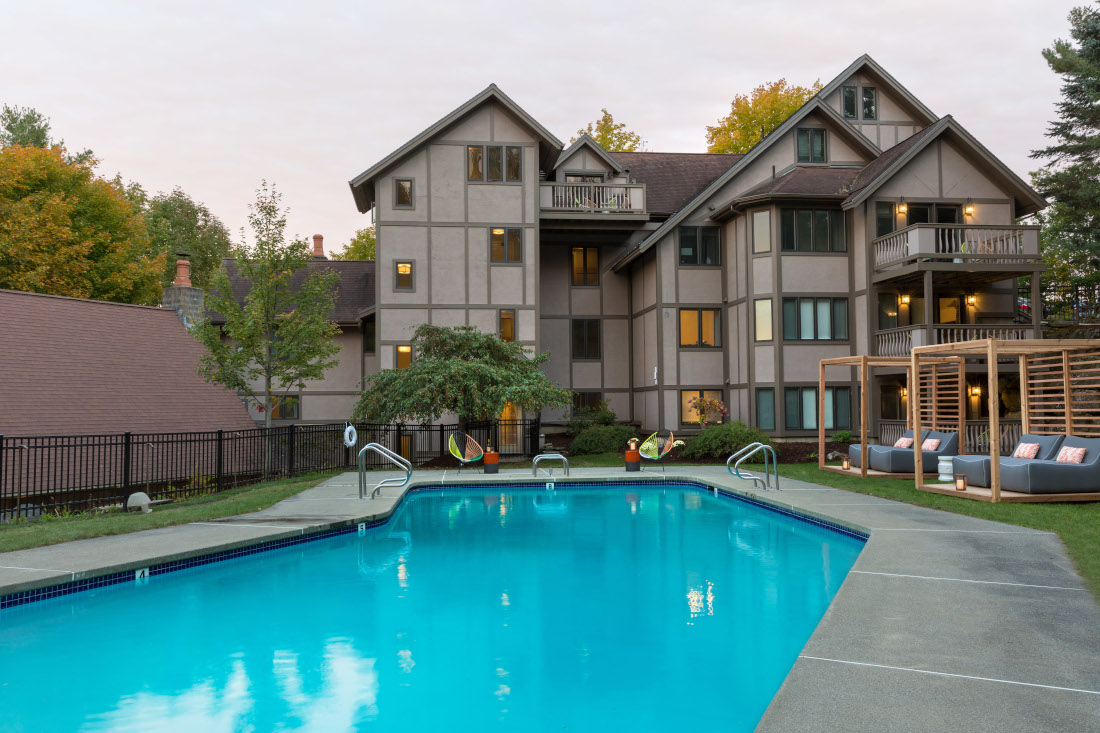 Sun & Ski Inn and Suites vs. Field Guide Lodge
Sun & Ski Inn and Suites and Field Guide Lodge have a lot in common: they're both mid-sized hotels in Stowe that are moderately priced. However, there are a few main differences. While the Field Guide Lodge is just a few minutes away from town, Sun & Ski Inn and Suites is a little further away. However, the Inn & Suites does have an onsite restaurant, unlike Field Guide Lodge, so guests can dine onsite if they prefer.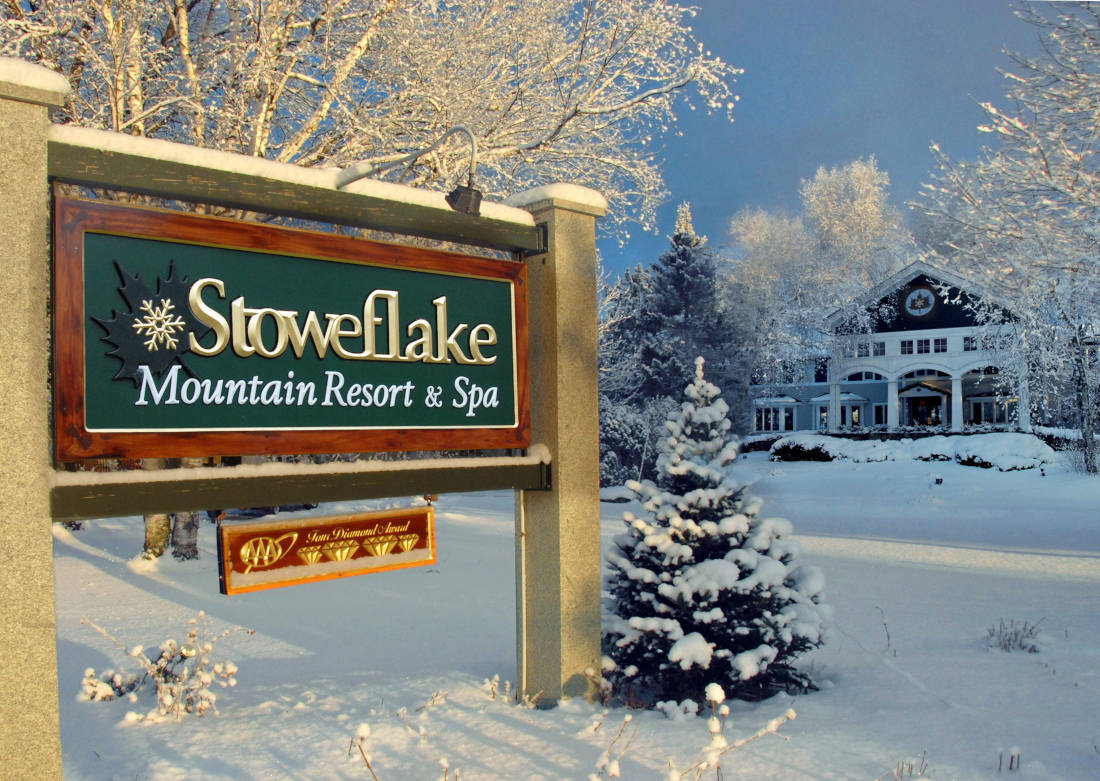 Sun & Ski Inn and Suites vs. Stoweflake Mountain Resort & Spa
Geographically, Sun & Ski Inn and Suites is incredibly similar to Stoweflake: it sits just across the street. They are both similar price points with similar basic amenities. Their biggest differences are in the overall atmosphere. Stoweflake Resort & Spa is geared more towards couples or adults traveling together, with its expansive spa and charming rooms, whereas Sun & Ski is a better option for families traveling together or adults seeking something more modern and stylish.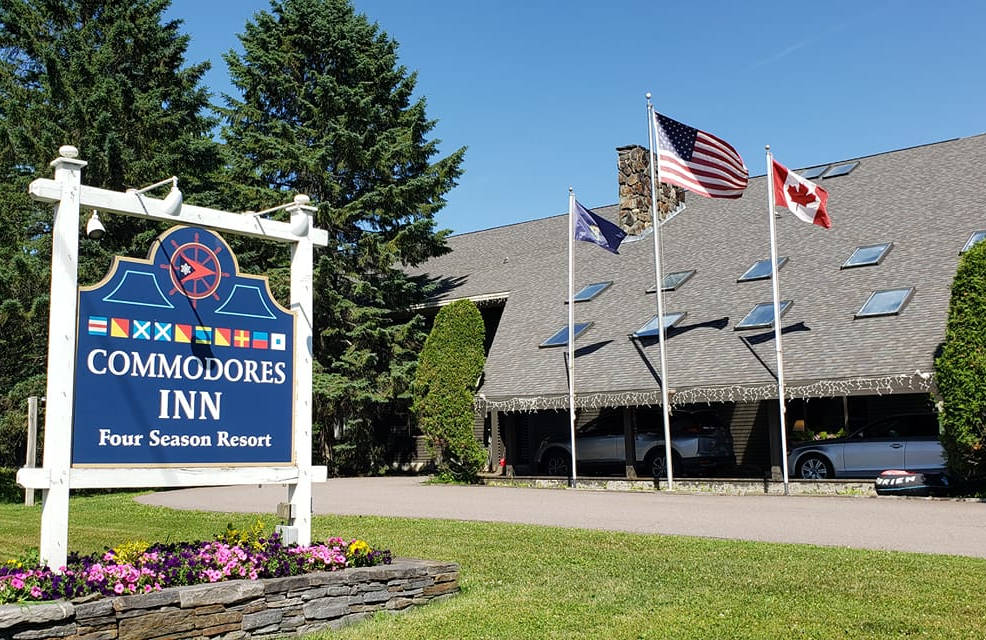 Sun & Ski Inn and Suites vs. The Commodores Inn
The Commodores Inn is another option for Stowe lodging at a similar price point to Sun & Ski Inn and Suites. It has a lower price point than Sun & Ski, and that price point is reflected in the difference in amenities: while it has the basics covered, like being on the shuttle route, it does not have a restaurant or bar onsite, electric vehicle charging, or anything similar to the unique amenities at Sun & Ski. Therefore, The Commodores Inn is a great option for travelers on a budget that are willing to sacrifice some more unique amenities for a lower price tag.
Image Credits: Sun & Ski Inn and Suites