Harrington Hill is another one of Vermont's small local ski hills that provides the community with a place to come together, teach their kids to ski, and create great winter memories.
This is a natural snow hill with no snowmaking that rises approx 160 – 165 feet above the surrounding field. You'll find Harrington Hill on route 132 in South Strafford, VT, approx. 1 hour to the northeast of Killington.  It is currently run by the local Lion's Club volunteers and skiing here is free for everyone!
Harrington Hill Lift Tickets
The rope tow at Harrington Hill is free. No lift tickets required! Stop by anytime that the hill is open to ski. Harrington Hill can be accessed from behind Barrett Memorial Hall by heading through the gate into the upper parking lot behind the hall when the rope tow is running. You can see a few stragglers making their way to the hill from the parking lot in the photo lower on this page.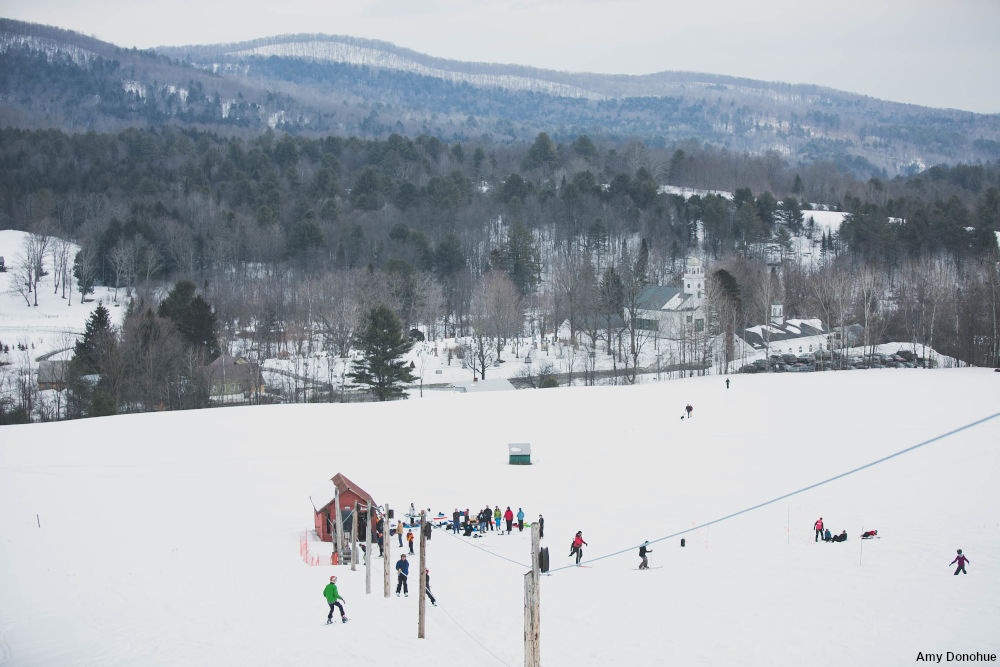 More Harrington Hill Info
This hill is entirely run by volunteers and funded by the Lion's Club. Skiing here goes back to 1969 when the rope tow was moved onto the land.
The lift posts are made from old telephone poles and every time that the rope tow opens, one of the volunteers has to hang the rope onto its pulleys. Read a great article from 2013 by Kate Spencer here about how Harrington Hill is run by the volunteers.
To find the hill, head to Barrett Memorial Hall at 248 Route 132, South Strafford, VT.
Ski deals are what we do here and if you want to save money on Vermont skiing, you have come to the right place. Harrington Hill skiing is free so you won't find any discounts for this hill, but we do hunt for deals around the state and you can subscribe for monthly deals by entering your email below.
This rope tow is on private land, currently owned by Cindy and Rod Maclay. It is operated by the Strafford Lions Club with the land owners' permission.
Yes. Hard'ack is free anytime that the rope tow is running.