Grey Fox Inn is a boutique hotel centrally located between Stowe Mountain Resort and the village of Stowe. It's within walking distance of several shopping and dining options, and a short drive or shuttle ride from the mountain. 
Grey Fox Inn Deals & Discounts
Nothing at the moment, sorry. Join our email list for updates on any deals or discounts for the Grey Fox Inn, Stowe Ski Resort, or Vermont's other resorts.
Badges Earned: Free Wi-Fi, winter pool, located on the shuttle route.

Property Details & Staff Comments
Grey Fox Inn is a small, boutique hotel within walking distance of the center of Stowe. Its central location offers easy access to numerous activities in the village, including local breweries, galleries, shopping, and more. The hotel comprises two buildings with 34 newly-renovated guest rooms, each equipped with free wifi, an HDTV, a mini fridge and microwave (most rooms), a coffee maker with pods, and all of the essentials. With rooms like fireplace suites and multi-bed, multi-bath condos, there's a room for every preference. However, because the inn only has 34 rooms, guests should book in advance to ensure their room of choice. For the best views of the mountain, try to book the "Corner King" room in the Mountain View building for panoramic views and, as a bonus, enjoy easy access to the outdoor pool and Recreation Path.
The Inn also offers plenty of options for active travelers. There's an indoor pool open year-round and an outdoor pool open seasonally for guests of all ages to enjoy. Skiers can get an early start and drive 10-15 minutes to Stowe Mountain Resort, or opt for night skiing a half an hour away at Bolton Valley, then return to the inn to relax in the sauna or hot tub. Guests looking to save on parking fees at the mountain can also take the free shuttle, which stops a short walk from the inn. For non-skiers looking to get a workout in, the Stowe Recreation Path is just outside the Inn, or, if it's too chilly outside, there's also an indoor fitness center. With plenty of amenities on-site or close by, there's something for everyone at the Inn.
Grey Fox Inn Location Info
990 Mountain Rd 
Stowe, VT 05672
Compare vs Nearby Stowe Lodging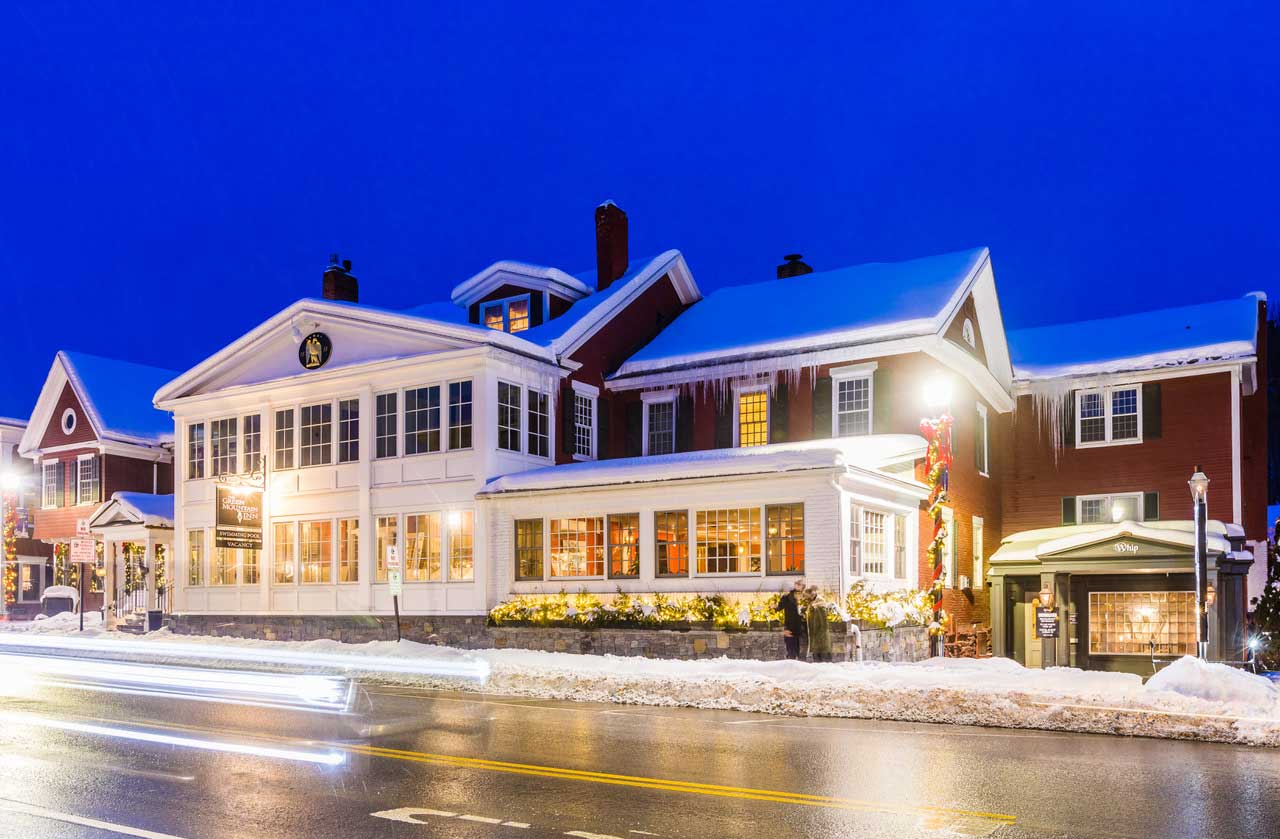 Grey Fox Inn vs. Green Mountain Inn
Green Mountain and Grey Fox Inn are both located within walking distance of the village, but Green Mountain Inn offers slightly better access, with the main street of town being just outside the front door. Green Mountain Inn is also larger than Grey Fox, with about three times as many rooms and two onsite dining options. Both have swimming pools, a hot tub, and a sauna, but Green Mountain also has outdoor fire pits and a game room. Overall, the hotels are comparable options, with Green Mountain having slightly more room options and amenities.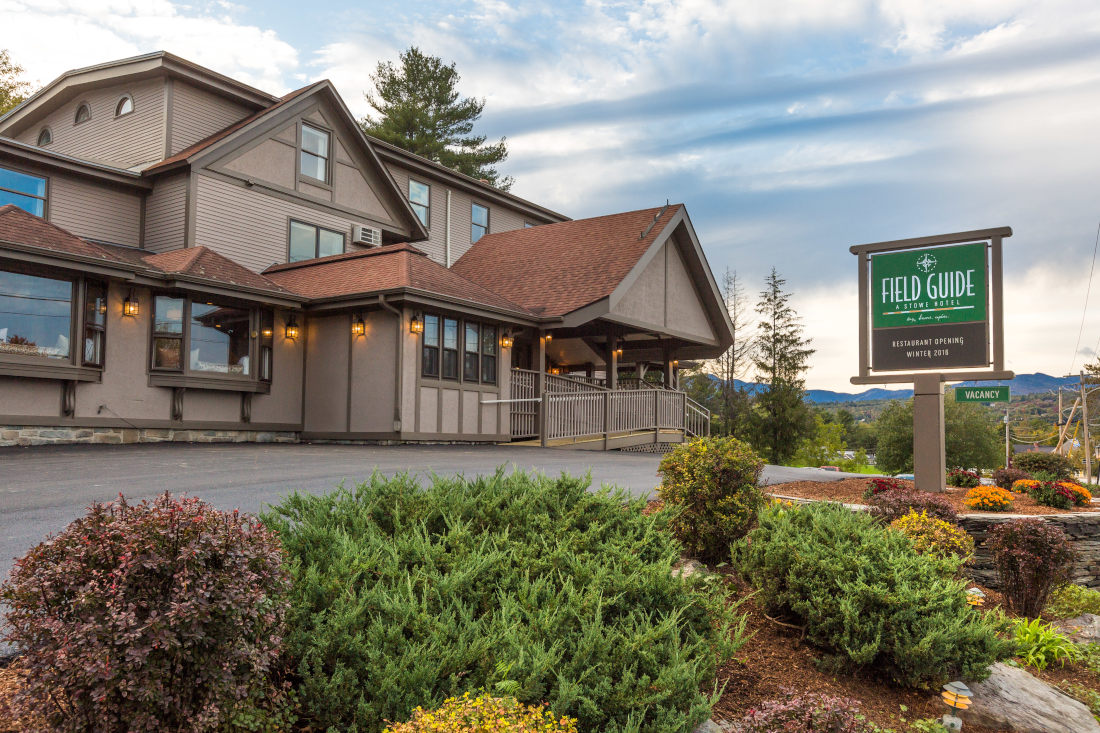 Grey Fox Inn vs. Field Guide Lodge
Field Guide Lodge is another option similarly located to Grey Fox Inn, but with a different atmosphere and fewer amenities. While both hotels are similar in size, the Inn features an indoor swimming pool and gym, whereas the Lodge only has a seasonal outdoor pool. However, the Lodge has an expansive guest lounge designed for gathering, equipped with games and a fireplace, and an on-site restaurant. The decision between Grey Fox Inn or Field Guide Lodge depends on priorities: guests looking for the most amenities will enjoy the Inn, whereas guests seeking a home base to gather and relax may prefer the Lodge.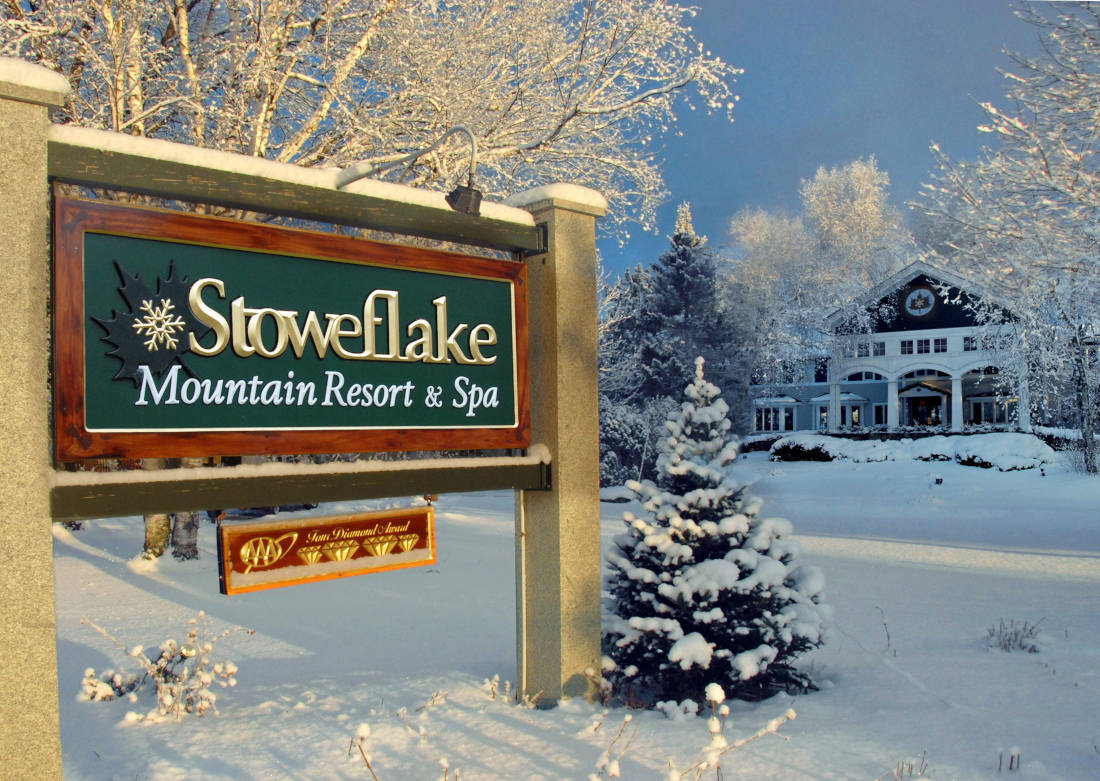 Grey Fox Inn vs. Stoweflake Mountain Resort & Spa
If you're looking for a more elevated stay than the Grey Fox Inn, the Stoweflake Mountain Resort & Spa may be a great option. While it has all of the amenities that the Inn does, it goes a step further with 50,000 square feet of spa facilities, fitness classes like yoga, pilates, and spin, and a dedicated room for women's fitness. Though the Resort does come at a higher price tag than the Inn, it's an upgrade that wellness-focused travelers may find worth it.

Image Credits: Grey Fox Inn