Pico Mountain Lift Tickets
Pico is an often underrated ski area that is located just outside of Rutland, VT, on the same ridgeline as Killington. You won't find the same resort atmosphere here that you will find at Killington (this could be good or bad), but you can still make some great turns and you don't have to pay the premium lift ticket prices that you'll pay around the corner. Pico is not open on Tuesdays or Wednesdays during the regular ski season. The most notable deal here for this season: Seniors 80 yrs and older can ski for free at Pico.
Pico Regular Season Ticket Prices
The prices and info below have been updated for the '22-'23 season. One of the big updates for this year is that the base lift ticket rates are now the same for all days of the season. However, the discounts offered are heavy and will differ depending on when you buy your tickets and what day you want to ski or ride. These discounts go as high as 50%. All regular daily tickets must be purchased online now.
| | | |
| --- | --- | --- |
| | Full Day Weekday & Regular Season | Full-Day Weekend & Peak Season |
| | | |
| | | |
| | | |
| | | |
| | | |
Pico Lift Ticket Deals from the Community
VT Ski & Snowboard Museum Coupons for Pico – Skiers and riders get 20% off of their lift tickets at Pico if they are a member of the museum. The cost is only $60 for individuals and you will get lots of other discounts including 20% off of Killington lift tickets.
Ski Vermont 4 Pass – Sold out for the '22-'23 season. This pass will give you one day of skiing at Pico and 3 days that can be spent at other resorts in Vermont, including one day at Killington which is located right up the road. The cost is less then $50/day and this is perfect if you want to spend a few weekends in Vermont. They go on sale in early November and they sell out quickly, so mark your calendar for next year if you are interested.
We hunt for Vermont skiing discounts and deals and will let you know what we find. Read more about our newsletter here.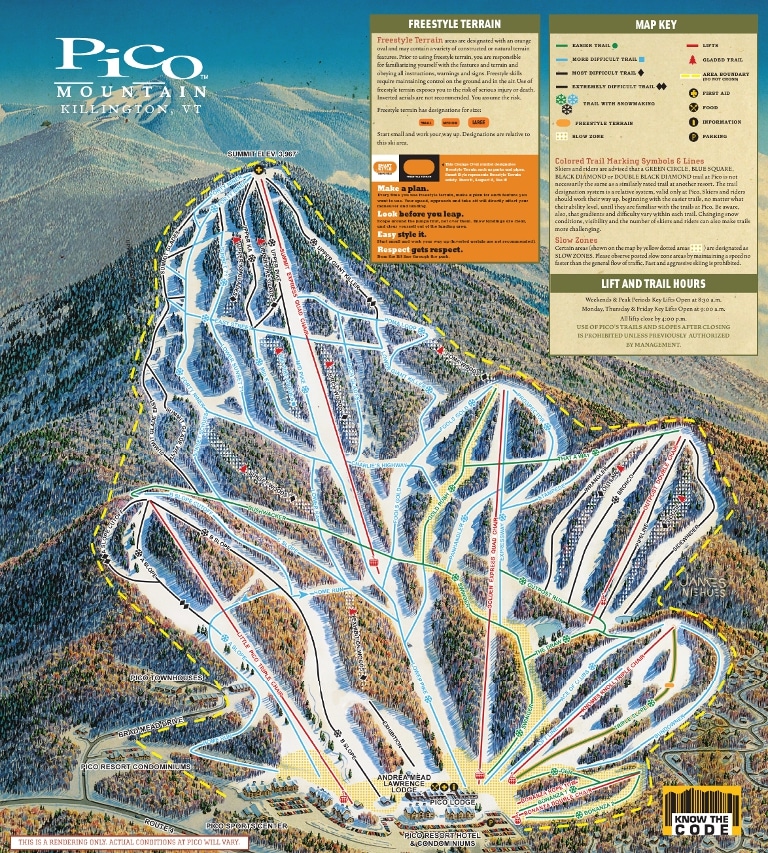 The Ultimate Deal for LARGE Groups
Rent the whole mountain with the base lodge and lift tickets included for $8,000 + tax. This is a rare option to find but Pico does offer it. They allow up to 250 people at this price and that equates to $32/person. It costs only $15/person after that. Magic Mountain also offers a similar option to rent the whole mountain.
Deals on Pico Lift Tickets from the Resort
P-Tickets – Only available prior to December 15th, 2022. Tickets are fully transferable (as long as you have not assigned them yet) and there are no blackout dates for using them. Cost is $59 for a one day lift ticket.
Discounts for VT and NH residents – Pico has been offering $45 passes on Mondays, Thursdays and Fridays (they are closed Tuesday and Wednesday). This deal is not yet confirmed for the current season but we are expecting it to be back again and will update this page shortly.
Pico + 4 Days of Killington – Only offered through 10/21/22 this year. This pass includes 4 days of skiing at Killington and a long list of perks including access to the summer bike park, golf course, and summer gondola rides at Killington. $990 for adults, $725 for kids, $860 for seniors.
Military Discounts – Active duty, retired and honorably discharged military members get discounted lift tickets at Pico. Prices range from $38 to $59.
Remember that almost all daily lift tickets are discounted by the resort as long as you are buying them online in advance.
Sorry, this is no longer offered. This was available in the '21-'22 season and it gave skiers and riders discounts ranging from 25% to 50% off their daily tickets.
No. This information has been removed from their website and we will update this section if we learn different.