Field Guide Lodge is a trendy, modern hotel in the heart of Stowe, perfect for guests that are looking for a base camp to socialize, hang out, and relax in between days at the slopes. 
Subscribe to our VT deals newsletter for updates on any deals from the Stoweflake, other lodges, and the ski resorts of Vermont.
Badges Earned: Free Wi-Fi, bar on-site, located on shuttle route, pet-friendly.

Property Details & Staff Comments
Field Guide Lodge is a chic, modern hotel centrally located in the village of Stowe. Just minutes away from the heart of Stowe, guests are just a quick walk away from plenty of different shops and restaurants and have easy access to the local shuttle, giving them access to Stowe Mountain Resort and Mt. Mansfield. The hotel consists of two buildings, The Lodge and The Trail House, both fully updated with plenty of communal spaces to relax and socialize with family and friends. Guests will find plenty of different options for accommodations, ranging in size from king-bed rooms to suites and cottages for a more comfortable stay. However, note that the hotel does not have an elevator, so guests with mobility concerns will want to call ahead in advance to make sure they can book an accessible room.
In between activities during the day, Field Guide Lodge has plenty of options for relaxing and hanging out. In the main lodge, the lounge is a lively, stylish space to play board games, read a book by the fire, or chat with other guests. From 3-8pm, Après Only – the onsite bar and tasting room – is open for bar snacks, local beers, cocktails, and more. In the morning, breakfast and coffee are available in the main lodge, included in your stay. With so many spaces designed to make gathering comfortable and easy, Field Guide Lodge is a great pick for travelers that are looking to share stories, plan out their day with a group, or make new friends.
Field Guide Lodge Location Info
433 Mountain Rd
Stowe, VT 05672
Compare vs Nearby Stowe Lodging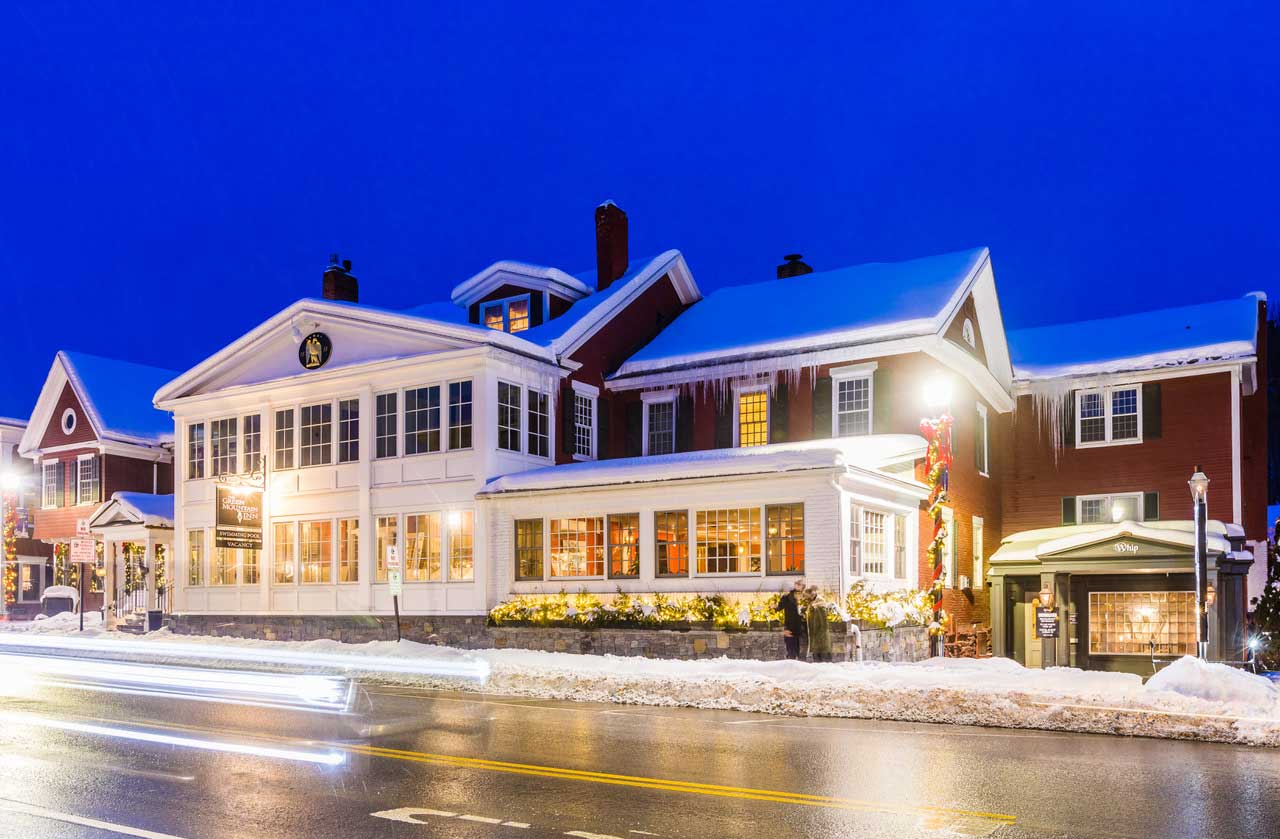 Field Guide Lodge vs. Green Mountain Inn
While both Field Guide Lodge and Green Mountain Inn are located in the same scenic area, they each offer unique atmospheres and amenities to cater to different preferences. The hotels have similar amenities, but Green Mountain Inn has a pool that's open year-round, whereas the Lodge's pool is only open seasonally. Field Guide Lodge boasts a sleek and contemporary design, while Green Mountain Inn prides itself on its cozy and historic charm. The Inn is also slightly closer to town, with main street being just out the front door.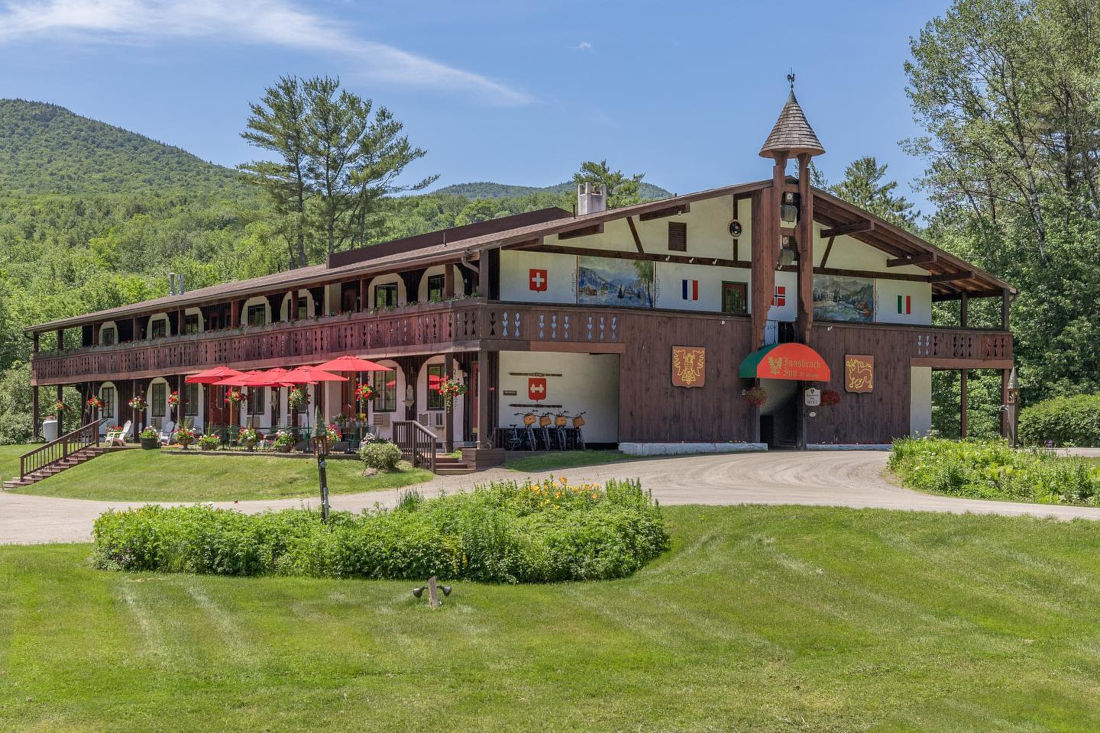 Field Guide Lodge vs. Innsbruck Inn at Stowe 
Innsbruck Inn at Stowe is slightly closer to the mountain than Field Guide Lodge but still requires a short drive (or free shuttle ride) to get to the mountain. The hotels have similar amenities, but the Inn is closer to outdoor activities like ice skating, cross-country skiing, and carriage and sleigh rides. Alternatively, the Lodge is closer to town for guests that are looking to get some shopping in.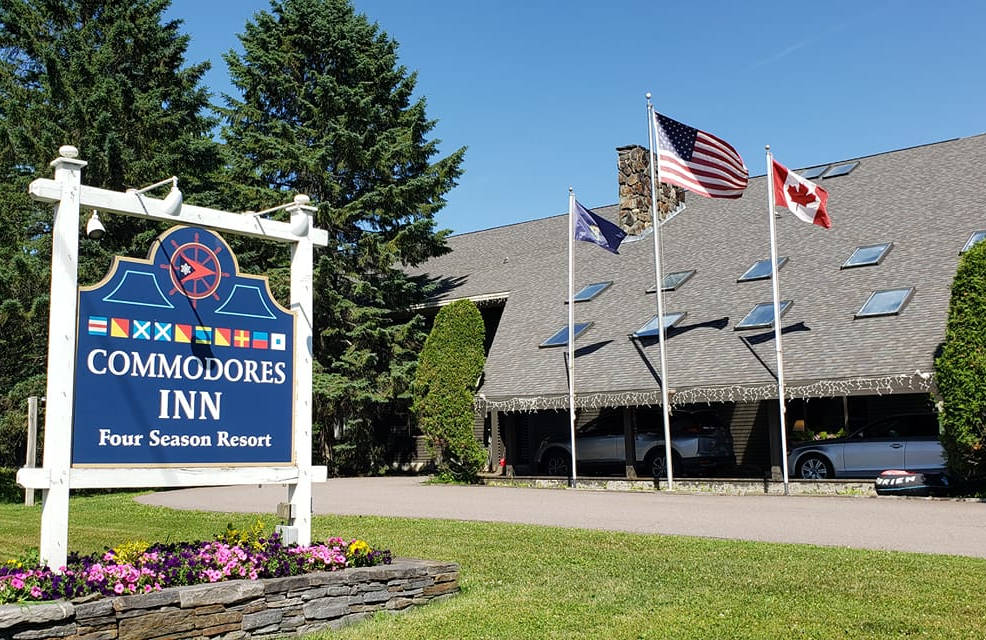 Field Guide Lodge vs. Commodores Inn
Commodores Inn is similar to Field Guide Lodge in distance to town and to Stowe Mountain Resort but is different in its atmosphere and room options. While Field Guide lodge is renovated and stylish, Commodores Inn offers a cozier environment and is family-owned, giving it a charming feel. The Inn also has fewer offerings for rooms, so if you need a larger space or a suite with a bedroom, Field Guide Lodge is the way to go.

Image Credits: Field Guide Lodge