Mad River Glen Lift Tickets
Mad River Glen is a hidden gem that is located approx a 1 hour drive south of Burlington and 1 hour north of Killington. It is known by the locals for it's challenging terrain, for being one of the only ski resorts in North America that still operates a single one-person chairlift, and for being one of the only resorts that does not allow snowboarding. Tickets here will usually be cheaper than the other major ski resorts in VT.
Looking to buy right now?
Mad River Glen Lift Ticket Prices
Mad River Glen is officially known as the Mad River Glen Cooperative. It is owned and run by its shareholder members. You don't need to be a member in order to ski here but the members do get several benefits. One benefits is the discounted lift tickets. All members get a 15% discount on their daily lift tickets. Members are also guaranteed access to the mountain. This year Mad River will be limiting the number of skiers on the mountain each day and members are all guaranteed a spot. All prices are now updated for '22-'23 season.
| | | | |
| --- | --- | --- | --- |
| | | | Late Afternoon (2pm to close) |
| | | | |
| | | | |
| | | | |
Shareholder Ticket Prices
These prices incorporate the 15% discount for members of the Mad River Glen Cooperative.
Mad River Glen Lift Ticket Deals
Mad River Glen keeps their lift tickets cheap so discounts here are not as common as some of the other nearby resorts, but this doesn't mean that you should get stuck paying full price now does it? Here are a few notable deals and tips for finding cheap Mad River lift tickets:
Free lift tickets for active duty military. Offered directly by Mad River Glen and one of only a few VT resorts that offer this.
Ski Vermont 4 Pass – Another option for discounted tickets to Mad River Glen, but only offered in November and these passes sell out very quickly. You can check for other discounted tickets via one of the options on our deals page.
Getskitickets.com and Liftopia.com – These are the two big discount ticket websites and you can always check here for discounts, although we will likely mention them here if there are any deals in place.
Our Newsletter – You may receive timely deal alerts in our winter newsletter about Mad River and other VT ski area deals.
More Deals in Our Newsletter
Enter your email to find more local ski deals on lift tickets, lodging, gear.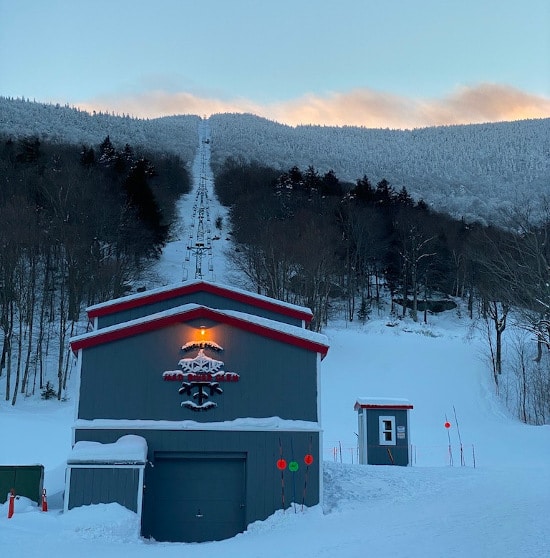 Mad River Glen Lift Ticket FAQ
Skiers can pay a one time cost (currently $2,000) to become a shareholder. Shareholders receive discounts on most lift tickets and are also able to vote on decisions regarding how the mountain is run. They elect a board of trustees and the general manager answers to the board. Not all pass holders are shareholders and you must apply for your shares. If you want to read about how the cooperative works you can check out this page.
Nope, they are about 99.9% fake. If we find one that works we will probably post it here.
Good question… check back soon, we are updating this section. They used to offer a unique option that allowed you to purchase a 10 year ski pass. It was transferable each year between seasons. For the true local that loves the mountain, this was always worth considering.