This is a historic, multi-building inn that is located on Main Street in Stowe Village. Enjoy two restaurants on the property and plenty of shopping and more restaurants within walking distance in the village.
No deals right now. Subscribe to our newsletter for any updates.
Badges Earned: Free Wi-Fi, electric vehicle charging, restaurant on-site, bar on-site, 24 hr front desk, heated winter pool, located on shuttle route.

Property Details & Staff Comments
The Green Mountain Inn is a charming, historical inn in the heart of the village of Stowe. Open since 1833, it has a history of great hospitality and has become a landmark in the area. Travelers looking for the quintessential New England small-town experience will love having all of the shops and restaurants on Main Street right outside their front door within walking distance – no car necessary! Inside the hotel, guests will find the cozy atmosphere of a bed & breakfast with amenities including a year-round outdoor pool, fire pits, and massage treatments.
The staff at The Green Mountain Inn is warm, welcoming, and knowledgeable, though you may have to ask specific questions to learn about all of the offerings. Make sure to ask the front desk about in-room amenities and other activities on-site to have the best experience possible.
Green Mountain Inn Location Info
18 Main Street
Stowe, VT 05672
Compare vs Nearby Stowe Lodging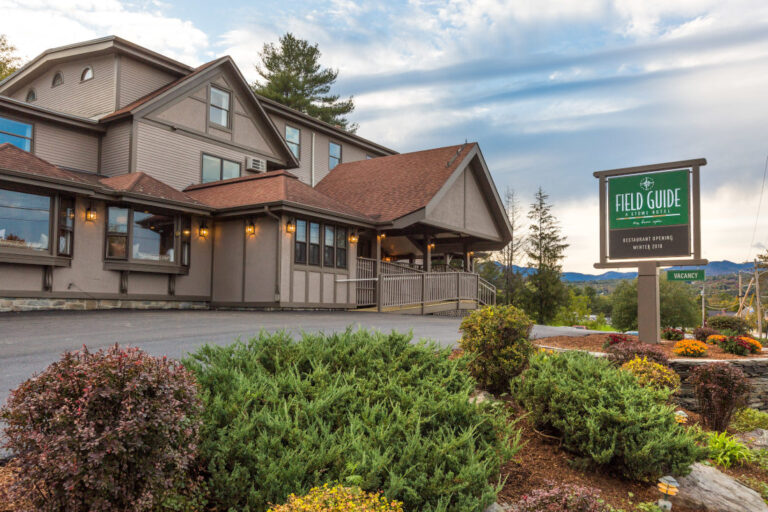 Green Mountain Inn vs. Field Guide Lodge – Field Guide Lodge is another option in a similar location to Green Mountain Inn with a little more of an upscale atmosphere. While Green Mountain Inn prides itself on being cozy and historic, Field Guide Lodge has a much more modern and stylish atmosphere. It also has a pool and hot tub, but they are outdoor and open seasonally. For such similar amenities and location, the Lodge comes at a similar price range as the Inn, with some weekends fluctuating quite a bit. If the Inn is sold out the weekend you are looking to go, the Field Guide Lodge is a great alternative!
Green Mountain Inn vs. The Lodge at Spruce Peak – These are two completely different experiences! If you are looking for a cozy stay in the center of town, with no emphasis on skiing (but may want to spend a day at the slopes), Green Mountain Inn is the clear winner. However, if you are focused primarily on a ski vacation and have no interest in seeing the town, The Lodge at Spruce Peak is worth checking out. It is significantly larger with more rooms and amenities, ski-in-ski-out access to the slopes, and has a full spa. It also starts at around double the price of Green Mountain Inn, so it is not a budget-friendly option but is a great splurge for ski enthusiasts.
Image Credits: Green Mountain Inn