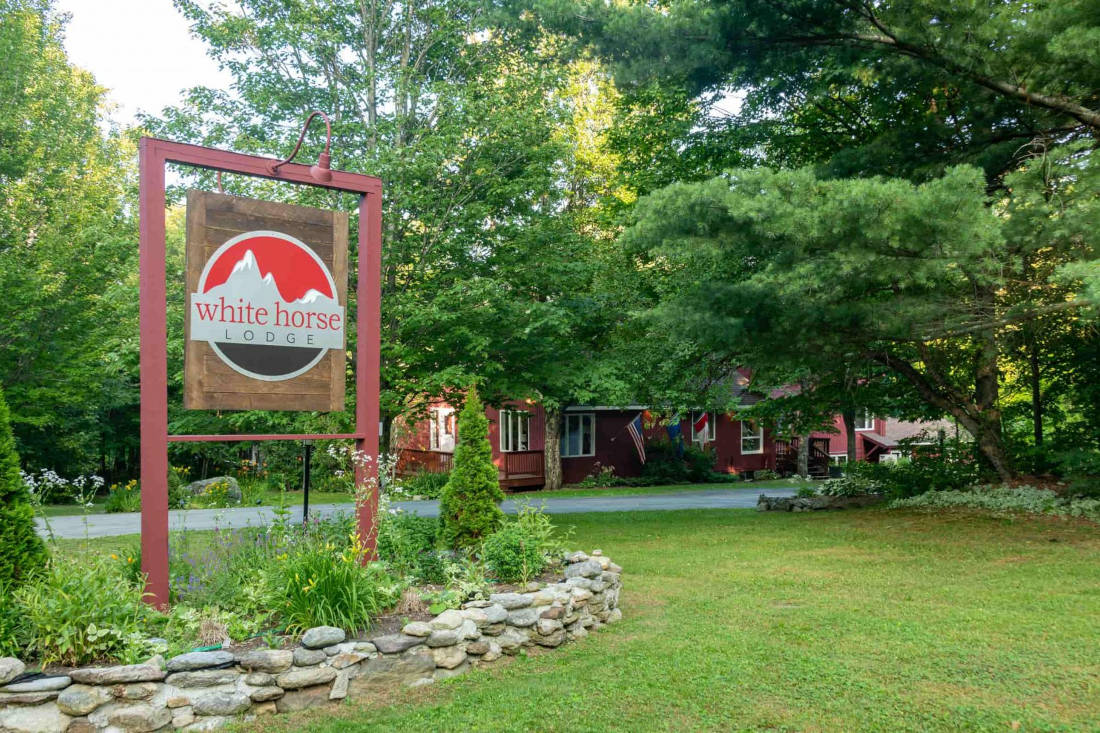 White Horse Lodge has 26 single room stays which are less than a mile from Mt. Ellen. Warm up at one of the fire pits by the private pond or inside at the lobby fireplace and seating area.
Looking for lodging deals at the White Horse Lodge in Vermont? Sign up for our newsletter updates using the form below!
Badges Earned: Free Wi-Fi, electric vehicle charging, 24-hour front desk, located on shuttle route

Property Details & Staff Comments
White Horse Lodge is a boutique hotel that has 26 hotel-style single rooms that offer single bed, double bed, and multi-bed room options. The property hosts a wonderful little private pond and has fire pits and chairs on its banks. The lodge also has a great indoor community space boasting a fireplace, cozy lounge area, and a small library.
The White Horse Lodge is one of three Franc family-owned properties and is their most centrally located property in the Mad River Valley. Being less than a mile from Mt. Ellen makes staying at White Horse a prime option for guests visiting the mountain.
White Horse Lodge Location Info
999 German Flats Rd, Waitsfield, VT 05673
Compare vs Nearby Sugarbush Lodging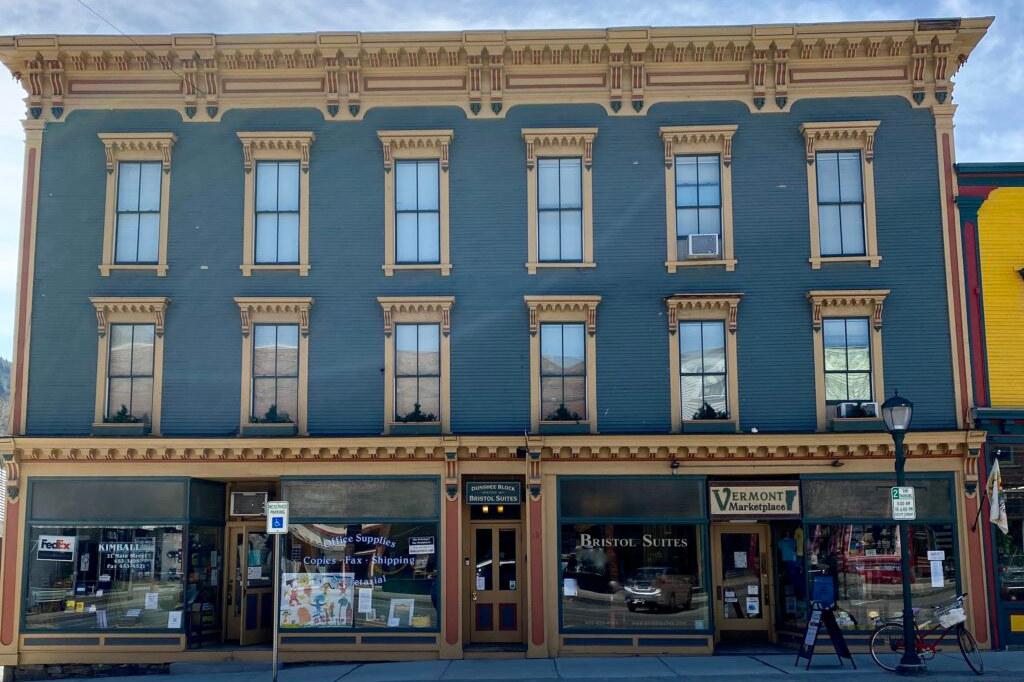 White Horse Lodge vs. Bristol Suites
Both properties offer hotel-style lodging, but if you are looking to accommodate a larger group, Bristol Suites has multi-room suite options which include full kitchens for group cooking. Bristol Suites is farther away from the resorts in the Mad River Valley, so if you are looking for a location with quick access to the resorts in the Mad River Valley, White Horse is less than a mile from Sugarbush at Mt. Ellen. The other real difference between Bristol and White Horse is their on-site ambiance. Bristol Suites gives you a direct downtown experience of Bristol, while White Horse Lodge has a private pond on the property surrounded by fire pits, allowing you take in a slice a nature while you stay there.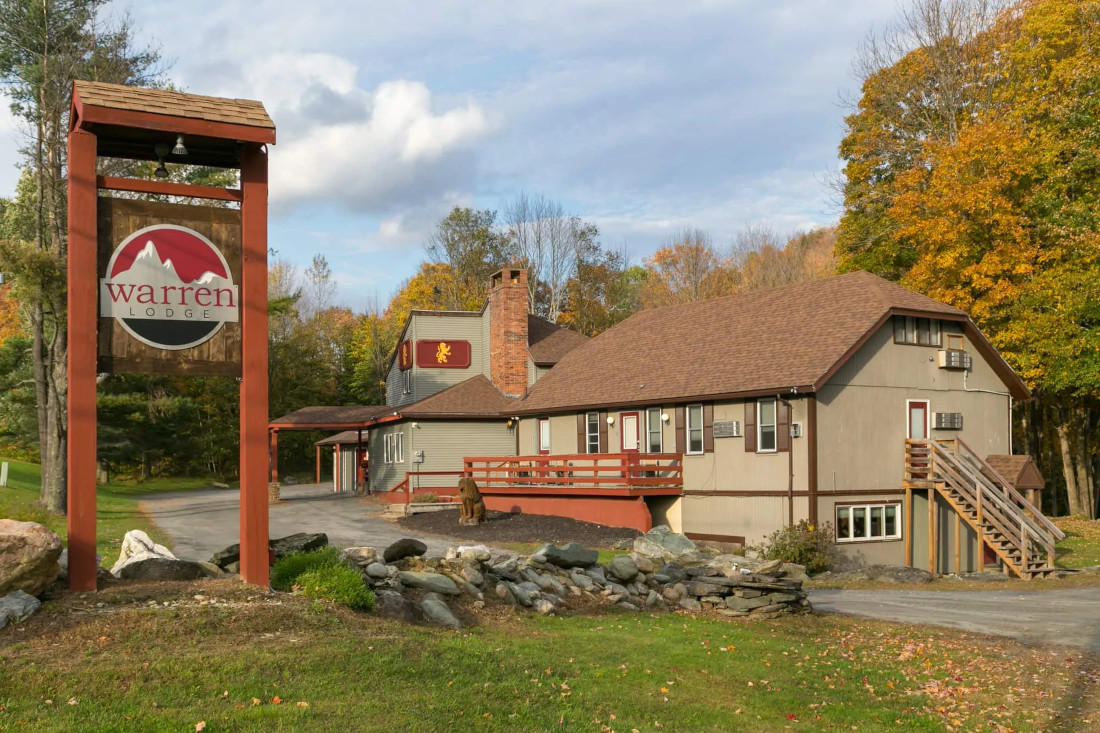 White Horse Lodge vs. Warren Lodge
White Horse Lodge and Warren Lodge are both owned by the Franc Family. White Horse has a private pond on site and Warren is on the banks of the Mad River. The real difference in these properties will be location and the type of accommodations that you are looking for. White Horse Lodge offers hotel-style rooms while at the Warren Lodge you can book condos with full kitchens to allow for group cooking. Warren is closest to Sugarbush, while White Horse Lodge is less than a mile from Mt. Ellen and is centrally located in the valley to reach Sugarbush and Mad River Glen quickly.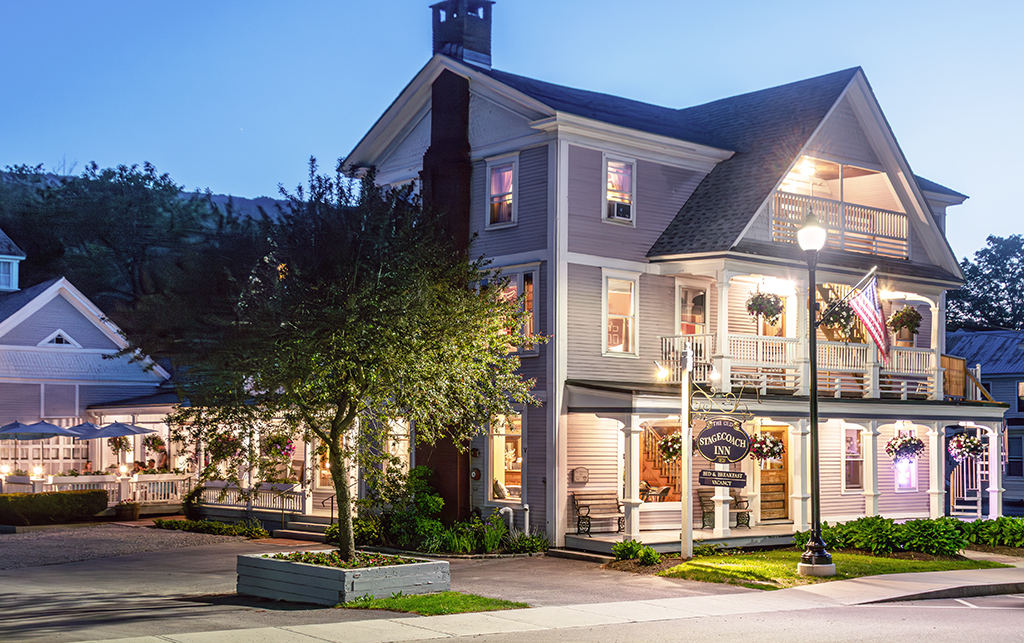 White Horse Lodge vs. The Old Stagecoach Inn
In some ways White Horse Lodge and the Old Stagecoach Inn 
are similar. Both offer hotel-style accommodations, have a fireplace in the lobby, and a library. The difference is that the library in the Old Stagecoach Inn doubles as a bar. Stagecoach also has larger suite options for groups. The Old Stagecoach Inn is a bed & breakfast and serves a full country breakfast buffet in the morning, while the White Horse Lodge does not have a restaurant or bar on-site.

Image Credits: Topnotch Resort