Which Vermont ski resort provides the best value to skiers and riders? We have broken down the full list to see which resorts provide the most skiing for the lift ticket price that they charge. For this list we are using the adult lift ticket price for peak holiday seasons (this is the maximum that you might pay). Skip to the bottom to see the data table and image credits.
#1 Smugglers' Notch - 29 Vertical Feet per $1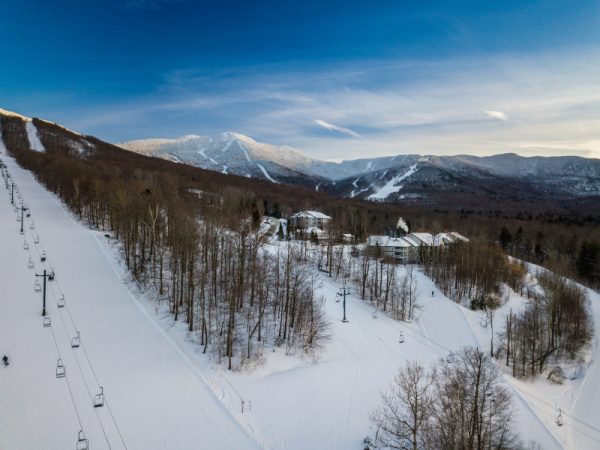 Smugglers' Notch takes the #1 spot for the best value ski resort in Vermont, offering more vertical skiing for the lift ticket price than any other resort. You will get 29 feet of vertical skiing for every dollar that you spend on lift tickets here. That's 23% more skiing than #2 on the list, so it wasn't even close this year.
There is enough diverse terrain to keep everyone in the family happy. Smugglers' Notch has 6 terrain parks including a children's park and the Night's Revenge Terrain Park that is filled with natural park features. There is a ton of great skiing here and the tickets are cheap compared to the other large resorts. The maximum ticket price this year is only $90 and kids ages 5 and under ski for free. We have already spotted some Smugglers' Notch lift ticket deals from the community and added them here.
#2 Burke Mountain Resort - 23.6 Vertical Feet per $1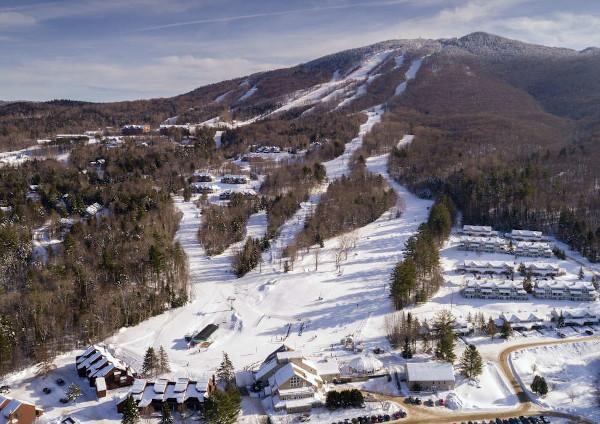 Flying under the radar in Northeast Vermont is Burke Mountain with 2,011′ of vertical skiing. Racers on the east coast are no stranger to Burke but this mountain is not usually at the top of everyone's destination list for a winter vacation. Tickets are priced just below Smugglers' Notch at $85 for adults during peak season.
#3 Magic Mountain - 23 Vertical Feet per $1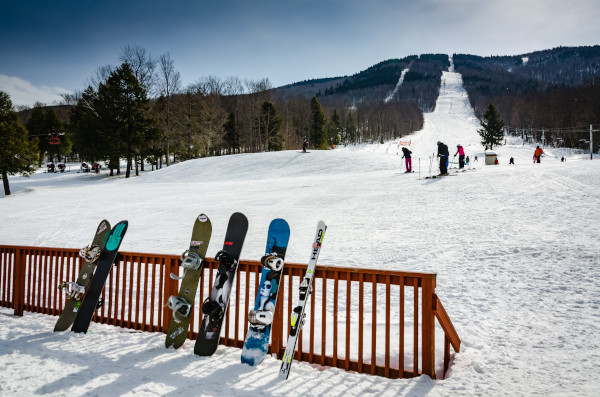 This is another VT gem that gives you great skiing for a cheap price. Magic Mountain is located in Southern Vermont, just to the northeast of Stratton and Manchester, VT. The max lift ticket price is $74 this winter and we have already been providing discounts off of the regular season prices for through our partners… offering discounts for up to $15 off of the standard daily ticket price.
#4 Jay Peak - 22.4 Vertical Feet per $1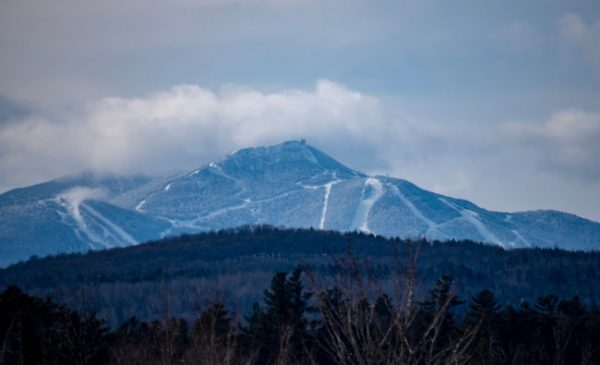 Nobody should be surprised that Jay Peak is near the top of this list. This mountain is a legend among locals and vacationers alike. Jay Peak does lack some of the extra fanfare that some of the more expensive resorts have. Remember, this includes the lift lines, crowds and lift ticket prices. There is no lack of terrain here and almost any metric that you use to measure value at a ski resort should probably have Jay Peak near the top. The resort has more than 2k feet of vertical skiing and the max price for adult lift tickets is still only $95. There isn't a lot of world class skiing left for under $100/day but Jay Peak is on the cusp of breaking into that category depending on who you ask.
#5 Mad River Glen - 21 Vertical Feet per $1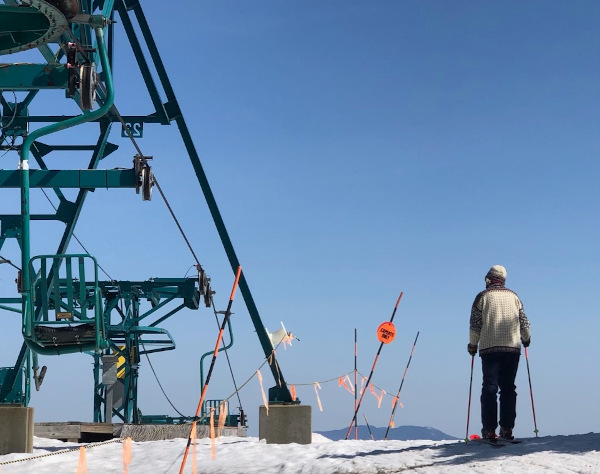 Mad River Glen has a similar reputation to Jay Peak among the VT locals. It has great skiing and the lift tickets are priced a level below the other large ski resorts. Snowboarders be warned: this is one of the only remaining resorts around that does not allow snowboarders. If you think that is old school… did you notice the single one-person chairlift above? It is also one of the last of its kind still remaining. Mad River is still under $100/day with adult ticket prices maxing out at $97 this year.
#6 Killington - 18 Vertical Feet per $1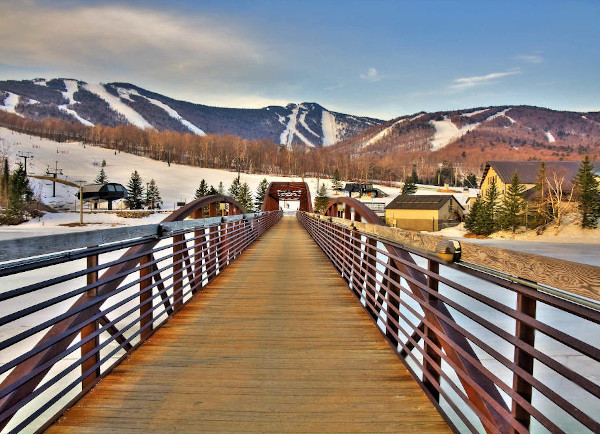 If you thought that all of the largest resorts were going to be a ripoff, you were wrong. This is The Beast and #6 should be considered a respectable place for Killington on this list. This is the largest ski resort in Vermont but not the most expensive (tied for #2 with Stratton and Sugarbush for most expensive). There are 6 mountains here that are spread across 5 base areas encompassing 3,050′ of vertical skiing. This is a resort where it is easy to avoid paying the max ticket price, but if you try your hardest to spend the most you can pay as much at $169/day here.
#7 Pico - 17.3 Vertical Feet per $1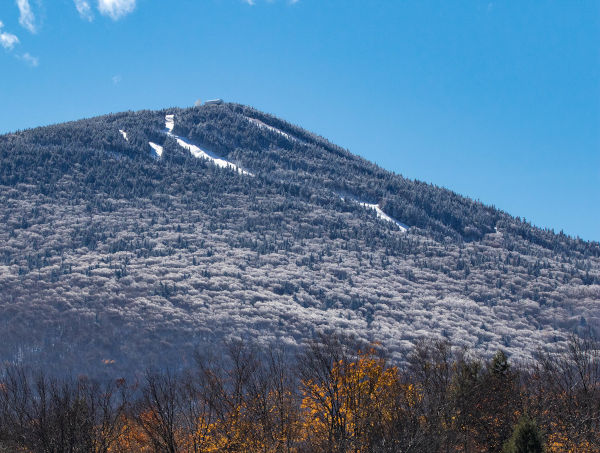 Pico's lift ticket prices did go through some inflation this year or this mountain would have been much higher on the list. Last year an adult ticket on peak days would cost $89 and this year it is up to $114. Pico is located on the same ridgeline as Killington, just to the east of Rutland, Vermont. Pico ranks #7 on this list but a lot of skiers and riders might argue that it deserves better because Pico is a great place to spin fast runs and avoid the crowds.
#8 Bolton Valley - 17.2 Vertical Feet per $1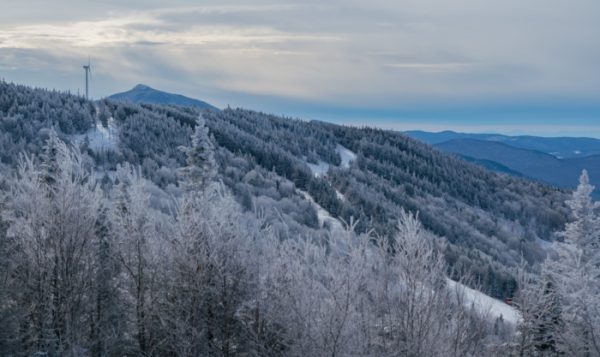 Perhaps lesser known than Pico because fewer people drive by it on their way to someplace else, but Bolton Valley comes in at #7 right below Pico and this is right about where it deserves to be. Bolton has 1,704 feet of vertical skiing. It is the only lift-served ski area with real night skiing in Vermont and it is becoming known for its iconic windmill at the top of the mountain. Keeping it under $100 still, adult ticket prices top out at $99 this year.
#9 Middlebury - 16.7 Vertical Feet per $1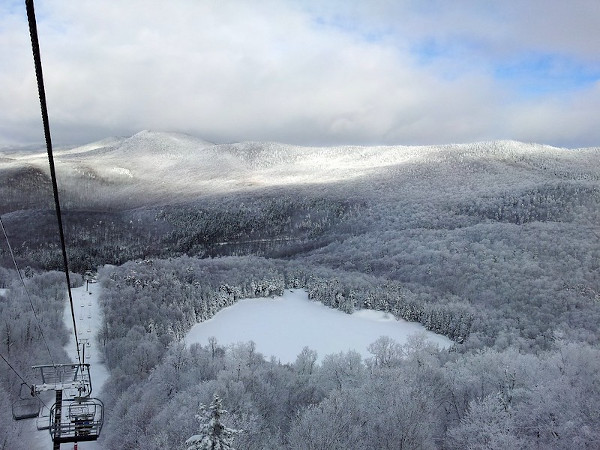 Bolton Valley and Middlebury occupy the middle of this list. Middlebury is clearly the smaller of the two but the tickets are cheap and for Middlebury students they area even cheaper This ski area is owned by Middlebury College and the students and alumni gets steep discounts off of the regular lift ticket price. Middlebury boasts 1,000 feet of vertical skiing and students can ski here for only $20/day.
#10 Okemo - 15.8 Vertical Feet per $1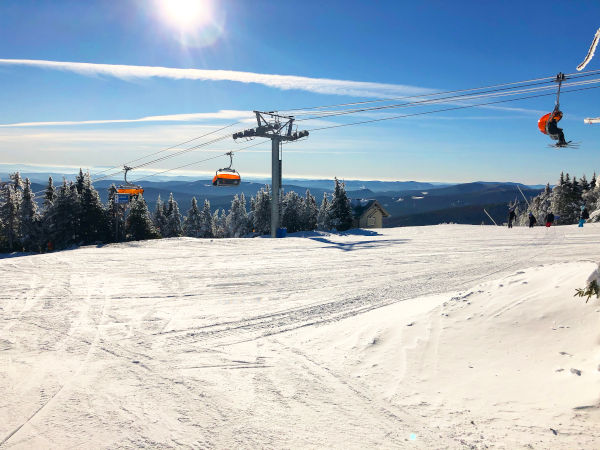 Okemo has a lot of diverse terrain but the ticket prices are starting to climb as we get down to the #10 spot on this list. To be fair, let's point out that Okemo is a fairly "wide" resort and there is a lot of skiing packed onto this mountain. There are 5 terrain parks + a half pipe. Okemo has two main base areas and is comparable to Smugglers' Notch when it comes to being family friendly.  Ticket prices during the holiday season are $139 this year if you pay the max, but this also is on our list of resorts where kids ski free.
#11 Sugarbush - 15.4 Vertical Feet per $1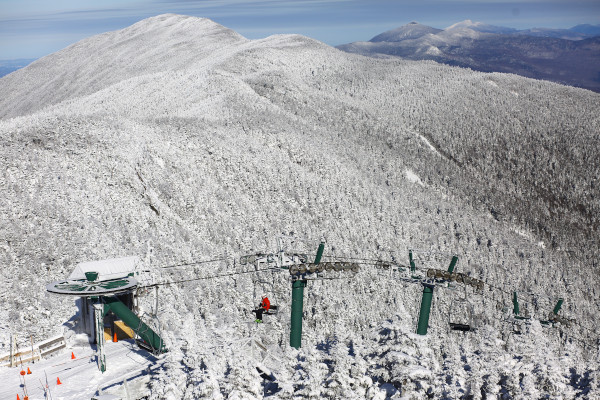 Sugarbush has the third highest vertical rise in Vermont, but the mountain is in a 3-way tie for the second highest lift ticket prices ($169), so it gets moved down to the middle of the pack on our list of value ski resorts. This is also on the list of ski resorts where it is very easy to avoid paying the maximum so you could argue that this one should rank better as a value resort. Sugarbush boasts 581 skiable acres this year which is also in the middle of the pack regarding total acres among VT ski areas. Sugarbush does claim an additional 2k+ acres of backcountry skiing.
#12 Bromley - 14.9 Vertical Feet per $1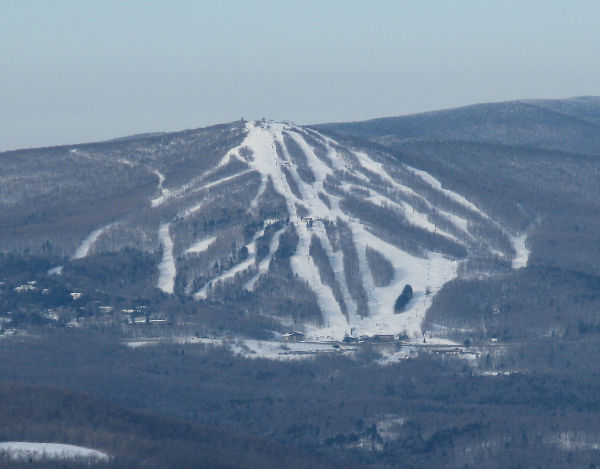 Bromley is located in Southern Vermont and this is the closest ski area to Manchester (approx 10 miles). It may only have 1,300 feet of skiing but Bromley has been able to carve out a niche in the VT ski industry for almost 100 years now. Ticket prices are maxing out at $89 this year and as long as they stay under $100 there won't be many complaints. Skiers and riders will get 14.9 feet of vertical for every dollar that is spent on lift tickets here.
#13 Stowe - 13.6 Vertical Feet per $1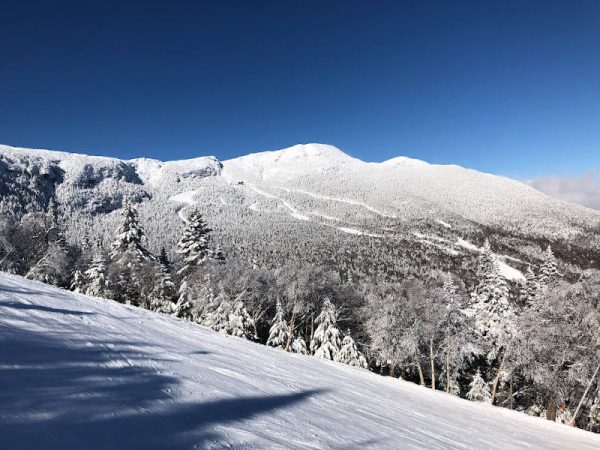 Stowe has the most expensive lift tickets of any resort in Vermont this year at $174 for adults on peak days (remember this is "day-of" pricing with no discounts). But how is the skiing here and is Stowe a good deal? For every $1 that you pay for your lift ticket here,you will get 13.6′ of vertical skiing. One thing that is lost in those numbers is that this is a great place to ski. This is a unique and picturesque resort, located on Mount Mansfield with great skiing and snowboarding… but it is expensive.
#14 Mount Snow - 12.7 Vertical Feet per $1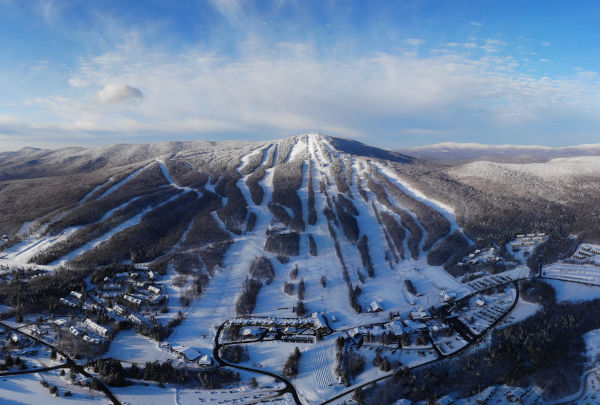 Is Mount Snow a good deal? For every $1 that you pay for lift tickets here you will get access to 12.7 vertical feet of skiing and this puts Mount Snow near the bottom of this list. Mount Snow is one of the southernmost ski areas in Vermont so it is closer to a lot of New England residents that the others resorts…. There are only two others to the south: Haystack is private and the Brattleboro Ski Hill only has a rope tow, so this is really the southernmost ski area that most of you should likely have on your vacation list. 
#15 Stratton - 11.9 Vertical Feet per $1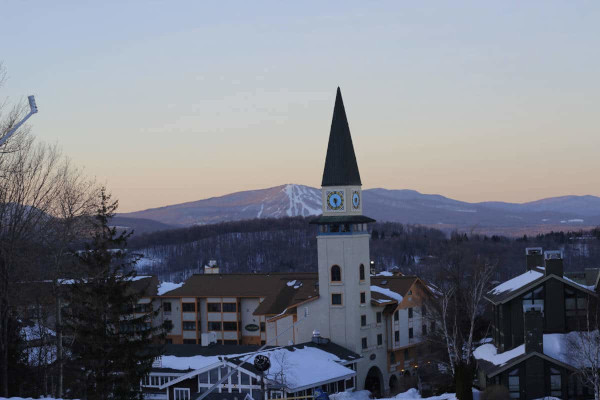 Stratton has just over 2,000 feet of vertical skiing, but with ticket prices maxing out at $169/day the mountain is near the bottom of this list when it comes to value. This is a world class resort in Southern Vermont that is closer to many New Englanders than the other resorts, so Stratton has no problem keeping their slopes full. However, they just don't offer as much vertical skiing for the price that they charge when compared to other VT ski resorts.
#16 Suicide Six - 7.3 Vertical Feet per $1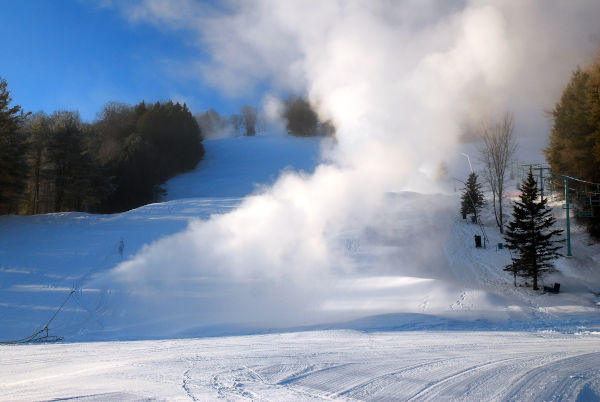 Vertical rise is not the strong point of this ski area. This is a small historic ski resort in Woodstock, VT that stands 650′ tall and has a max ticket price of $89. You can get more vertical skiing per dollar at any other lift-served resort in Vermont, but that's not really the point of this place. This is a local's resort with a unique history and niche within the industry.
In this list we have only included ski areas with chairlift access. This means leaving off spots like Ascutney and Northeast Slopes (they come in at 22.5 feet/$1 and 24 feet/$1 respectively if you care to know). This list uses the adult peak season "day of" lift ticket price for comparison purposes.