If Vermont is next on your list for a ski vacation, Stowe and Sugarbush deserve to be considered. Nestled deep in the heart of Vermont, both resorts offer a unique, but distinctive, experience. Both Stowe and Sugarbush are located between the cultural capital of Burlington and the real capital of Montpelier. Simply take exit 10 off of 89 and choose right or left.
Stowe Mountain Resort has a long history. Its first season was at the beginning of the 20th century in 1936. The resort itself is located on the eastern slope of Mt Mansfield (Vermont's highest peak). The nearby town of Stowe is a tourist destination in both summer and winter. In the summer, hiking, swimming, and outdoor adventures dominate the scene. But in winter, when the buildings and streets are covered with a few inches of fresh snow, the town turns picturesque. Stowe is a town that was made for snow.
Sugarbush Resort is a staple of Vermont ski culture. Founded in 1958, Sugarbush consists of two base areas, Lincoln and Mt. Ellen, and several peaks. The resort is located in the Mad River valley. Winding backgrounds pass through a quintessential Vermont farm country characterized by old-school general stores, cozy restaurants, and rolling fields filled with cows. At the base of Lincoln Peak and Mt. Ellen, Sugarbush's two lodges promote a laid-back, homey feel that inspires visitors to return year after year.
As you start your search for your next ski vacation spot, you may be wondering which resort would suit you best: Stowe or Sugarbush? Keep reading to see which resort comes out on top as we compare and contrast the best (and worst) parts of each resort.
Is Sugarbush really bigger than Stowe? In terms of size, both resorts are fairly similar. Stowe is a single acre bigger when it comes to skiable acres and also has 5 more trails and 1 extra terrain park. Sugarbush is higher in elevation with a few extra lifts and more vertical drop. The area dedicated to beginners is also a bit larger.
|   | Sugarbush | Stowe |
| --- | --- | --- |
| Elevation | 4,083 ft (1,244 m) | 3,625 ft |
| Vertical Drop | 2,600 feet (790 m) | 2,360 ft |
| Total Acres | 4000+ | – |
| Skiable Acres | 484 | 485 |
| Total Trails | 111 | 116 |
| Total Terrain Parks | 3 | 4 |
| Beginner Terrain | 20% | 16% |
| Intermediate Terrain | 45% | 55% |
| Expert Terrain | 35% | 29% |
| Total Lifts | 16 | 12 |
| Total Surface Lifts | 3 | 2 |
Overall, Sugarbush and Stowe are tied when it comes to size. Their intermediate and advanced terrain match up pretty evenly, although Stowe has a bit more intermediate terrain and Sugarbush has more advanced.
Comparing Treeskiing & Backcountry Skiing
Backcountry trails increase the size of both resorts. Sugarbush has marked glades (18 in total) that serve as a guide to their more treacherous backcountry. However, only more advanced skiers and riders are encouraged to make use of these glades since the trees are relatively close together and some areas are quite steep. Stowe also has extensive backcountry climbing all the way to the peak of Mt. Mansfield (experts only!). Unlike Sugarbush, most of Stowe's wooded glades between trails are more open and easier to navigate.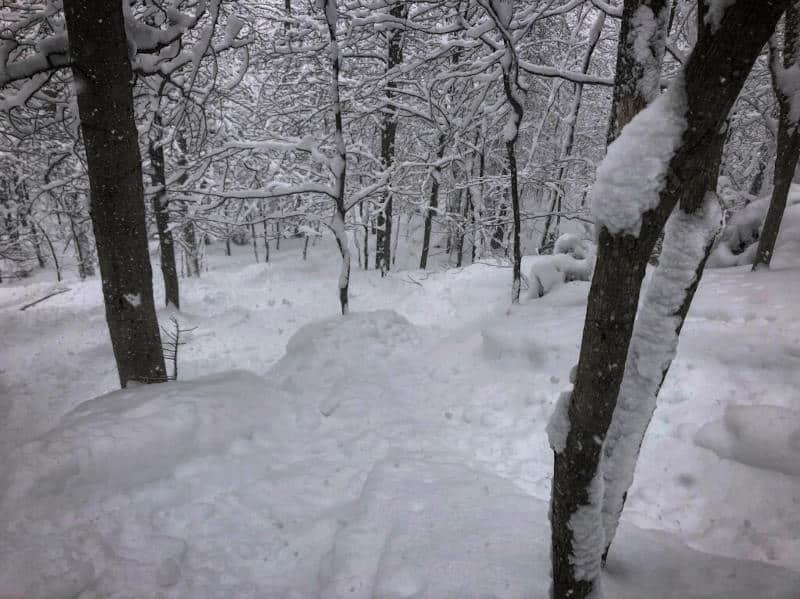 Stowe vs Sugarbush Beginner Terrain
The similar sizes of the resorts mean that they have about the same area to work with when it comes to terrain. As you can see in the chart above, both resorts have a good amount of terrain dedicated to beginner skiers and riders, although Sugarbush takes the lead with about 4% more.
Both have a ski/ride school with a dedicated bunny slope and magic carpet. Stowe has dedicated a whole mountain area to beginners. Spruce Peak is the location of one of their ski schools and also provides a safe, comfortable space for new skiers/riders to try their skills. On the Mount Mansfield side, the trails get more advanced but there are still some dedicated beginner and family-friendly trails.
Sugarbush's ski school is located at the Lincoln Peak base area called The Schoolhouse. The Gate House lift leads to several easy trails and most of the intermediate trails on that side of the mountain have an easy alternative clearly marked. The lack of crowds makes learning off the bunny slope much easier.
In this category, either would make a good choice but Sugarbush is a bit more beginner-friendly.
Liftlines, Crowds, Parking
When it comes to liftlines and crowds, Sugarbush's obscurity certainly comes in handy. Stowe is a large, well-known resort that recently became part of Vail Resorts. Skiers and riders with an Epic pass get a certain number of free days at resorts across the United States and even a few in Japan and Australia. Most of the time, the crowds are contained to the weekend although this past season (2020) saw exceptionally long lines and crowds every single day of the week. The lifts with more advanced terrain typically have longer lines than those for beginners.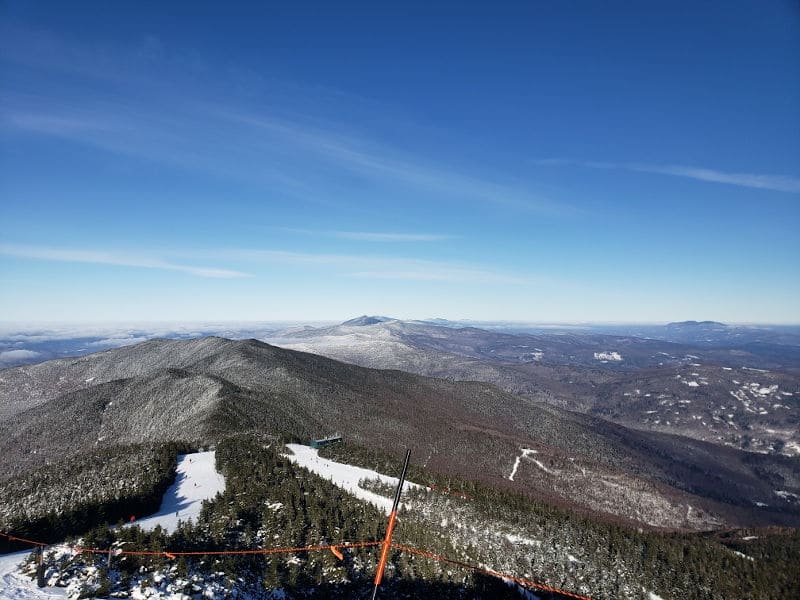 Sugarbush, with its two base areas, still sees heavy crowds on holiday weekends. However, the fact that you can choose between two base areas helps dispense the worst of it. Mt. Ellen often has shorter lines and smaller crowds no matter what day of the week. Lincoln Peak has more of a base area, more terrain, but also more tourists. However, even during the busiest days, you would not likely wait more than 15 minutes in a lift line.
Both mountains have plenty of parking even during the busiest weekends of the winter (New Years' and Martin Luther King weekends). Sugarbush offers a ride on the "Jitney" that picks visitors up at their cars and drops them back at the end of the day. Both resorts have parking within a reasonable walking distance.
In terms of crowds and lines, Sugarbush definitely dominates this category. Stowe's notoriety makes for a popular destination and the lift lines reflect that. If you are looking for more runs with shorter waits, Sugarbush is the mountain for you.
Comparing Snow Conditions
Stowe has the advantage when it comes to snow conditions. Mt. Mansfield consistently receives more snow than Lincoln Peak and Mt. Ellen. Lake Champlain lies less than 50 miles from Mt Mansfield. One of the reasons for Stowe's large snowfall is the "lake effect." The lake effect produces snow even when snow is not in the forecast and is due to certain circumstances involving hot/cold air passing over the surface of the lake.
Not only does Stowe dominate in inches, but it also has more snowmaking coverage and the trails are better maintained. Being owned by a large corporation certainly has its perks. Stowe snowmakers cover about 83% of skiable acres while Sugarbush only covers 68%.
That is not to say that Sugarbush's conditions are not good. They are a bit more variable than those at Stowe and are more prone to icy conditions. Stowe's corporate-level trail maintenance means less icy and better edges all around.
2021 Annual Snowfall Totals:
Sugarbush 2021- 177" | Stowe 2021- 218"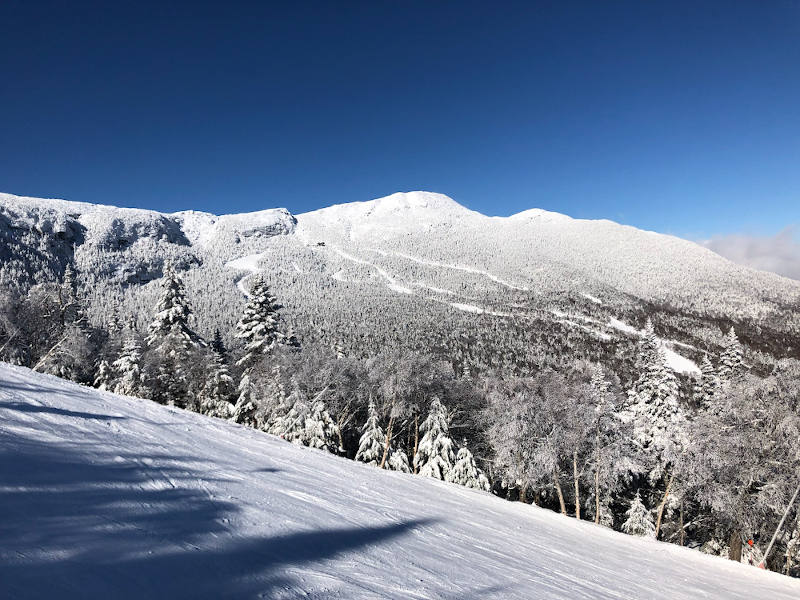 Sugarbush's more laid-back atmosphere lends itself to great end-of-season spring skiing. It consistently stays open later than Stowe in the hopes that Vermont will experience one of its infamous late April, early May snowfalls. The most recent example of this was over a foot of snow in late April 2021. Sugarbush had a tentative closing date of April 25th but was able to stay open another week with limited trails. In the past, Sugarbush has stayed open as much as three weeks longer than Stowe. Spring skiing is a crucial part of Sugarbush's appeal.
Both mountains have access to on and off-mountain dining options. Stowe has more dining options at the resort and the town has a plethora of restaurants, cafes, and upscale dining. Sugarbush has fewer on-mountain dining options, but the value and unpretentious atmosphere make for a more relaxed dining experience.
In addition to cafeterias, both of the base areas at Sugarbush have modest, comfortable bars and lounge areas that are popular with visitors and locals alike. Options include burgers, sandwiches, burritos, pizza, and other carb-heavy, ski-friendly foods. Stowe follows the corporate, high-end trend with its mountain area food: pricey and fueled by tourists. Options include crepes, fondue, bistros, and sushi. Locals who ski Stowe often do not frequent the on-mountain dining areas and prefer to eat in the town or bring food for tailgating.
Off the mountain, both resorts have access to delicious locally-made Vermont cuisine. Stowe has more variety due to its larger crowds, but Sugarbush has some high-quality, delicious options as well. Depending on your preference, both ski areas offer the best of Vermont food and drink.
Apres-ski depends entirely on personal preference. Stowe has a bit of a leg up in this category because of the convenience of the surrounding town. The apres-ski around Sugarbush is a bit more spread out.
Stowe has the reputation for being the best ski resort for people who do not ski. If apres-ski is more important to you than time spent on the mountain, Stowe might be the resort for you. Stowe resort, the surrounding village, and extended town provide everything you would need for an extended, rural ski vacation. The t=Town of Stowe has shopping, restaurants, and other outdoor activities to keep both skiers and non-skiers happy.
Sugarbush may not have a whole ski town, but the apres-ski at the base of the mountain has an appeal. Waitsfield and Warren have a laid-back, small-town feel that attracts visitors in all seasons. In general, the towns feel more like a pit stop and not an attraction of their own. Waitsfield has a variety of smalls bars and restaurants that cater to both Sugarbush and Mad River Glen. The town reflects its year-round occupants who are mostly involved in farming, raising cattle, and making cheese.
In terms of apres-ski, do you prefer laid-back chats with the locals, or luxury, shopping, and isolation? If the first, choose Sugarbush. If the latter, choose Stowe.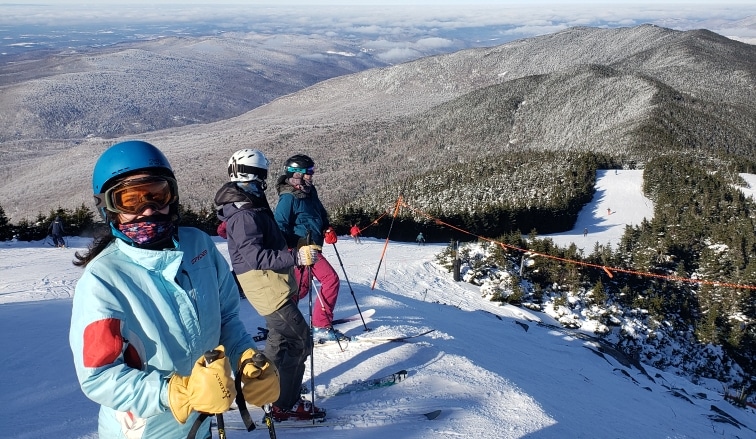 All in all, you can't really go wrong with either of these classic Vermont resorts. Sugarbush has an honest, down-to-earth, Vermont feel that attracts visitors to the state in all seasons. Its low-key crowds and spring skiing attract locals and visitors alike. However, compared to Stowe, it can seem a bit dingy and rural. Stowe may stick out like a sore thumb among the more grounded resorts like Sugarbush, but it has luxury resorts, excellent conditions, and a quaint surrounding town. The corporate feel that makes this resort a high-quality destination may end up robbing you of your authentic Vermont experience.
Stowe vs Sugarbush Lift Ticket Prices
Lift tickets are expensive at both of these resorts but in the '20-'21 season Sugarbush was Vermont's most expensive ski resort. An adult ski pass purchased at the window during peak season cost $169. The same lift ticket would have cost you $143 on the most expensive day at Stowe. See how this price compares to other resorts below…