These small inns have been a part of Vermont's culture for longer than the ski areas have been in business. Trappers, travelers, tourists and trinket salesmen have all used these inns for hundreds of years. Now, these are places where skiers and snowboarders can vacation in the mountains and enjoy fresh snow and companionship.
There are 9 bed & breakfasts and small inns listed on this page and each has its own story of how it survived for this long. You'll find everything from economy farm beds to rustic luxury wedding spots on this list. The two things that all of these places have in common is that they are located within close proximity to skiing and snowboarding and they are all more than a century old.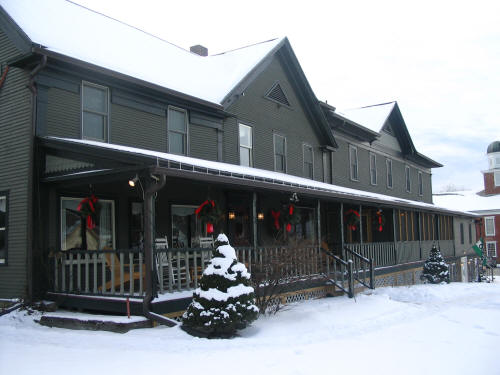 Year Built: 1790
Food: Restaurant, Tavern, Bakery
This inn was originally built in 1790, making it one of the oldest inns on this list. It was renovated in 2004 and now has a nice list of on-site amenities that includes a tavern, and a restaurant that serves breakfast, lunch, and dinner.
The Smugglers' Notch Inn is also known to offer discounted lift tickets to their guests and they happen to be offering discounted tickets right now. Guests can save $11/day on lift tickets and you can expect to pay about $100 to $200 per night to stay here.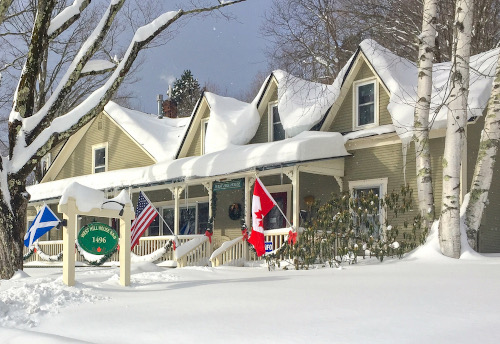 Year Built: 1850s
Food: Breakfast
This historic inn is more than 150 years-old but it has been expanded and modernized over the years. It is powered 100% by solar power and has 3 electric vehicle charging stations (two 240V 80A and one 240V 40A) . It has a total of 9 guest rooms and you can expect a 3 course breakfast. There is a cozy set of common areas here with a fireplace, pool table, games, and booze to keep you warm.
The West Hill House B&B is ideally situated in Warren, VT, less than a 5 minute drive from the Sugarbush Ski Resort and 15 minutes or so from Mad River Glen. The area is just over 1 hour north of Killington so you'll have to tack this onto your drive if you are coming from the south for vacation.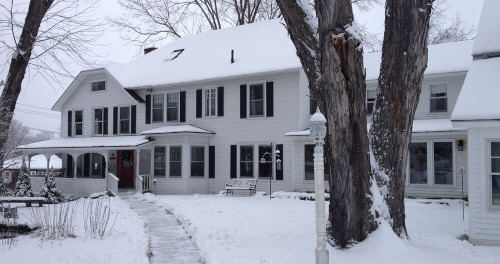 Year Built: 1788
Food: Breakfast, On-Site Farm
Best described as a bed & breakfast, the Golden Stage Inn has a farm on-site that produces honey, eggs, and fresh produce for meals. You can expect a hearty two-course breakfast here to get you ready for a day of skiing, but you'll need to go elsewhere for dinner when the day is over.
The Golden Stage Inn is located in the Okemo Valley, putting it in close proximity to the southern ski areas in the state. This makes it a great destination for those that are driving from New York City, Boston, and the majority of New England. This 8 room establishment has lodging that ranges from about $149 to $319 per night right now.
Is this the oldest Inn in Vermont? No, but it is among the oldest that is near any ski resort. Journalists have referred to the Yee Olde Tavern in Manchester Center as the Vermont's oldest inn on several occasions, but this is debatable. Right now the oldest inn that we know of in VT is the Brandon Inn, Brandon, VT (1786). The Golden Stage Inn, having been built in 1788, does share 1 thing in common with these other two. All 3 of them were built before Vermont even became a state (this happened in 1791).
#4 Mountain Meadows Lodge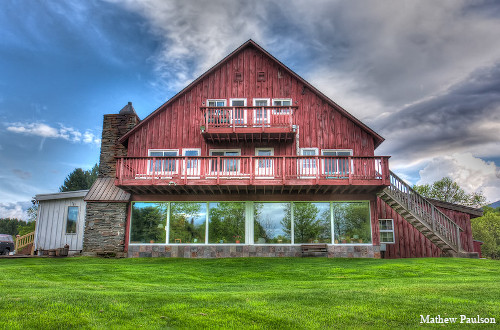 Year Built: 1835
Food: Bar, Restaurant w/ Breakfast, Dinner.
Rooms are split between the original barn and farmhouse that were built on this property in 1835. That's a full 123 years before Killington opened for skiing for the first time in 1958. The Mountain Meadows Lodge is located near the bottom of Killington's access road so you will only be a few minutes away from skiing.
On this property you'll find a bistro serving breakfast and dinner and a small bar tucked off to the side. The lodge is located on Kent Pond so the summer also allows for canoeing and fishing. We have decided to put this one into the 'rustic luxury' category.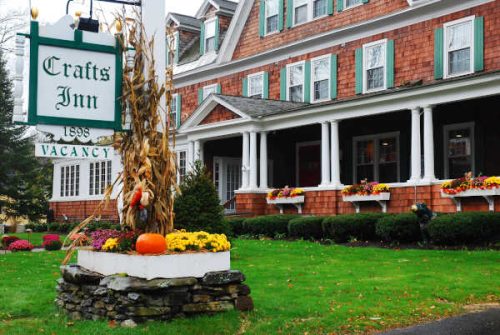 Year Built: 1903
Food: In-Room Kitchens
In its 100+ year existence this small Vermont inn has gone through multiple names and ownership families. It now has 30 bedrooms and each has its own full kitchen. The inn is located on Main Street in Wilmington so there are a handful of restaurants across the street and within a 2 minute walk. You should be able to get to the mountain by car in less than 15 minutes and you can expect to pay about $120 to $180 per night here.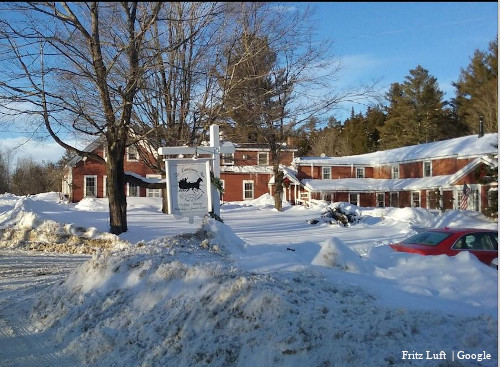 Year Built: 1810
Food: Restaurant w/ Breakfast, Dinner
The Landgrove Inn began its life as a farm in the year 1810 and was converted into a ski lodge in the 1930s. It is just a short drive away from Bromley, and Okemo is the next closest ski resort beyond that.
There are 18 rooms here in a variety of setups and right now prices range from $120 to $250. This Inn sets itself aside in the summer season by hosting a series of art workshops. You can view a full schedule on their website through the link above.
#7 The Old Stagecoach Inn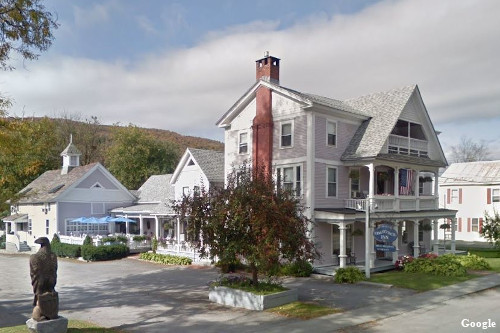 Year Built: 1826
Food: Breakfast
Waterbury is centrally located near several ski resorts and this puts the Old Stagecoach Inn at an ideal spot for skiers and riders who are on vacation. Bolton Valley, Mad River Glen, Smugglers' Notch, Stowe, and Sugarbush are all located within driving distance of this historic inn.
There are 12 rooms here and each has its own decorative theme. The history of this inn and the surrounding Town of Waterbury are well documented. You can read a detailed summary on the Stage Coach Inn's website here.
This inn fits nicely into the bed & breakfast category. You'll find a continental breakfast set out in the morning and hot food to order from the on-site kitchen. No dinner.
#8 Nye's Green Valley Farm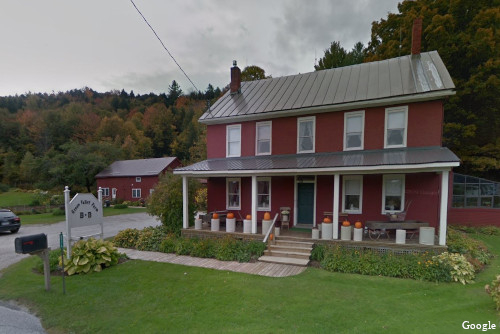 Year Built: 1811
Food: Breakfast
This B&B farm has a great story of family ties and restoration. It is owned by the same family whose great-grandparents owned the farm in the 1800s. Buildings have been renovated, new buildings have been built, and the property now has a variety of lodging for skiers and snowboarders. Hot breakfast is served here and included in the price like it should be at a true bed and breakfast!
Rooms can be rented for under $100 here in the main house. All options are under $200/night and if you want to rent for 7 days+ this is a good place to inquire about discounts.
Jefferson is located to the northeast of Smugglers' Notch and Stowe, so these are the two ski resorts that you should plan on hitting if you stay here.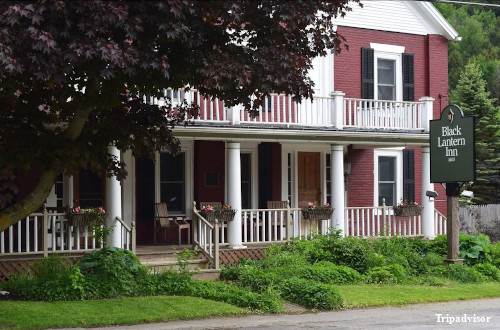 Year Built: 1803
Food: Restaurant, Bar
Located within driving distance of Jay Peak, this 200+ years-old inn has embraced farm to table dining and has a proud reputation in this area of Vermont. There is no breakfast, but you will find dinner and a small bar onsite here. There are 10 rooms in total and you can expect to pay between $100 to under $200 per night.
Perfect 5 star ratings on Yelp and Trip Advisor suggest this one deserves to be on your list of places to consider if you are heading to Jay Peak.