When planning a trip to the Northeast, any list would be incomplete without the awe-inspiring Green Mountain state. Home to the iconic mountain range that boasts twenty alpine and thirty cross-country resorts, Vermont has some of the best skiing the region has to offer. The idyllic Mad River Valley, nestled in the center of the state and just a hop and a skip from the state's capital, provides first-class skiing at the valley's two revered ski resorts; Sugarbush and Mad River Glen. Whether you are a first-timer to the area or a lifetime local, there are some things to know about before visiting and enjoying life in the valley.
While Visiting Sugarbush: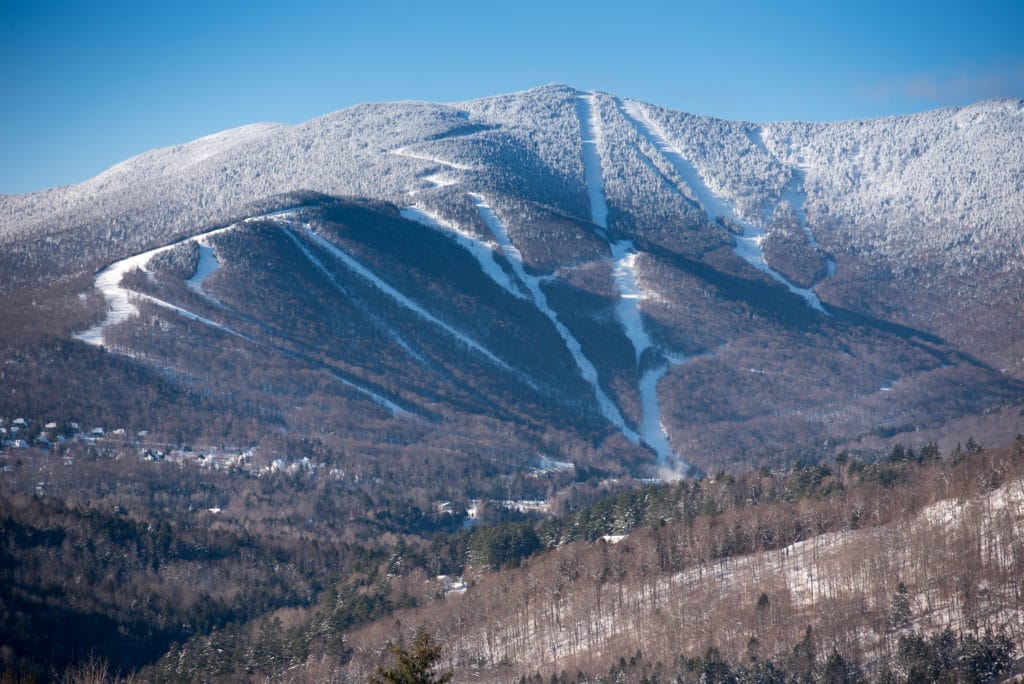 Find pristine ski and snowboarding at Sugarbush Resort in Warren, Vermont. The 4000-acre resort offers 484 skiable acres, two mountains, and sixteen chairlifts for winter sports enthusiasts to explore. Mount Ellen and Lincoln Peak each provide unique terrain and are connected by the scenic fifteen-minute Slide Brook Express Quad chair that crosses the basin. Mount Ellen is known for its local-filled and less crowded lift lines. Ideal for more experienced skiers, although providing some beginner-friendly trails in the bottom half of the mountain, Ellen is ripe with technical woods and moguls. When traveling the North Ridge Express Quad, Ellen's mid-mountain quad, Exterminator, and Exterminator woods are sensational trails when conditions are right. At the highest point of the peak, Rim Run is a scenic and winding run for beginners and experts alike to zoom down.
Traverse to Lincoln Peak to check out Jester for a breathtaking view of the valley on a clear day or Stein's woods for a bit more cover. The panoramic blue Jester trail can be accessed by riding two chairlifts from the base; the Super Bravo Express Quad followed by a short traverse to Heaven's gate Triple. After visiting you are guaranteed instagrammable shots to share. Lincoln Peak trails present a range of trail difficulties and this is where you will head for lessons from the ski and ride school.
Head down to Mad Taco for a saucy bite in Waitsfield, a mere eight minutes from the resort. Don't be fooled by the small space, Mad Taco packs a big flavor. A favorite among Vermonters, this taco shop shares the best in authentic tacos (two per order), burritos, and sandwiches for après cravings. The House Chorizo and twelve-hour smoked Carnitas tacos feature locally sourced pork and can be savored with a few Vermont brews to-go or for in-person dining. Conveniently located on Main street in the Mad River Green shopping center, Mad Taco is a stop worth taking and, if you're visiting in the summertime, you can even stop by the Canteen Creemee Company for a maple creemee afterwards (the lovable Vermont term for soft serve).
Slow down for a dreamy snowshoe tour at Sugarbush Resort when searching for some calm and wildlife to spot. Both tour-guided and self-guided snowshoe trails are maintained and available at Sugarbush on both peaks (conditions permitting). Lincoln Peak is home to five snowshoe trails; the Gate House, Warren House, Lower Woods, Village Woods, and Cliffs Trails. All Lincoln trails can be walked in under three hours with the Gate House Trail being the longest at around two and a half hours roundtrip. Active wildlife signs are posted along the Lower Woods trail, a mixed terrain loop, so be sure to soak up the natural wonder and try your luck at spotting moose, deer, turkeys, or even bobcats.
Kick back and enjoy the renowned beer culture of Vermont at the namesake Castlerock Pub of Sugarbush. With outdoor seating, views of the slopes, and often live music, Castlerock Pub is a lively joint all year round. The draft list includes craft beers from the area such as Sip of Sunshine IPA of Lawson's Finest Liquids, and the Edward APA from Hill Farmstead; a brewery located in Greensboro Bend, Vermont, and notably named Best Brewery in the World in 2018.
While Visiting Mad River Glen: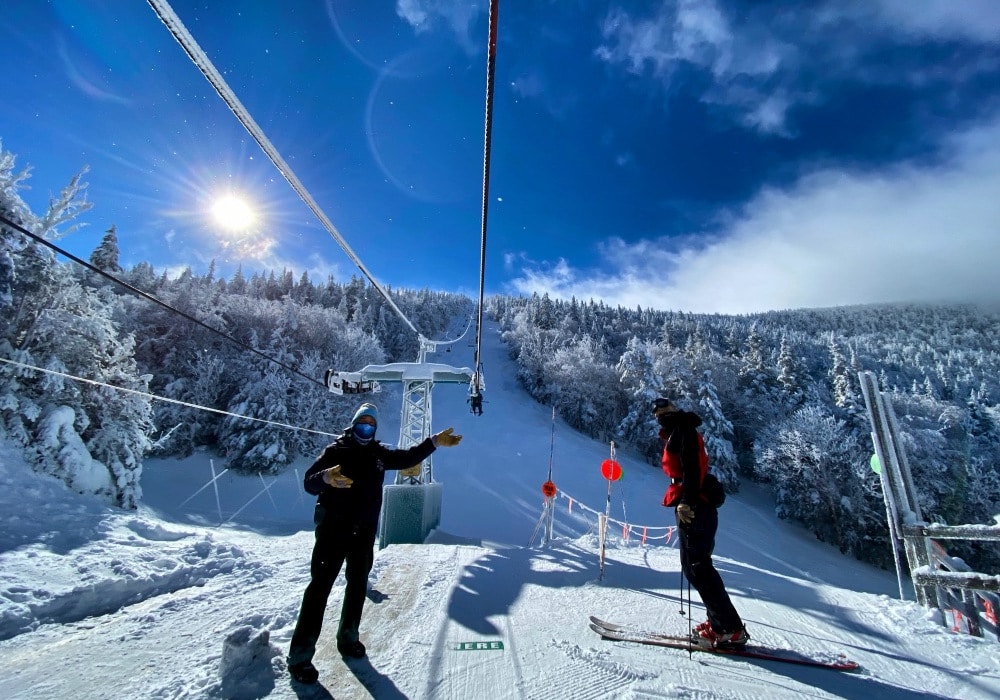 The venerable Mad River Glen is home to some of the best skiing in the Northeast and an unmatched local flare that has kept travelers returning for generations. This mountain is skiers only, delivering four chairlifts and 2,000 vertical feet of terrain. Start your day with a ride on America's last surviving Single Chair, a one-seater chairlift that brings you to the highest point of the mountain. From there, you have the option to ski several phenomenal black diamond trails or the intermediate Antelope trails for a tour of the entire mountain with sweeping views of the valley. When available, catching an empty chair at the mid-station for multiple upper mountain laps allows for some killer runs in the Antelope or Chute woods. Mad River is known for its expansive and less trafficked glades that will give your quads quite the workout.
Get a tune-up or rent gear at the mountain's own entrance Ski Shop. A full tune, including a Stonegrind, P Tex, Sharpen, Flatten Base, Bevel Edges, Hand Iron Hot Wax, will cost between $40 and $50, depending on the ski. Ski repairs and tuning help to ensure peak performance and safety while on the slopes. In icier Northeast conditions, a sharp edge can make all the difference in the world and is well worth the investment. Rental packages are also extended for day and season pricing providing skis and poles as needed.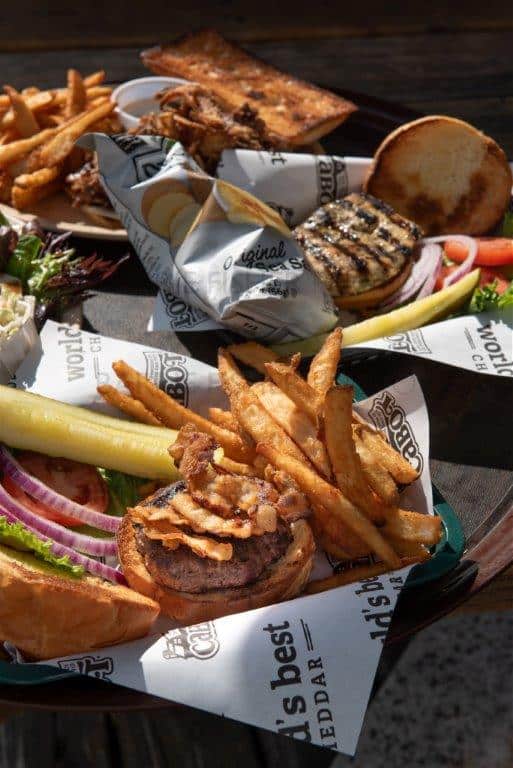 Stop in the effortlessly cozy General Stark's Pub inside the base lodge for a warm meal. The cabin-style pub is equipped with outdoor Adirondack chairs, a woodfire inside, mouthwatering burgers with Cabot Cheddar, and an extensive draught beer list. Memorial Day through Columbus Day you can attend a best-kept secret, the weekly fish fry prepared in-house and served Thursday, Friday, and Saturday nights from 4:30 to 8:30. The beer-battered, fresh catch, fish, and chips will leave you wanting more. For quicker fare and snacks, the Cafeteria is just adjacent where skiers can purchase breakfast, lunch, baked goods, and killer house chili for a bit of warmth on frigid days.
Take a sunset drive along the Appalachian Gap from the Mad River parking lot through the mountain pass to Buels Gore. Route 17, covering forty miles from Lake Champlain to Waitsfield junction, claims its fame through this two-and-a-half-mile stretch of wildly winding, lightly trafficked road. At the top of the peak, the road opens to a pull-off where you can appreciate the vast and rugged beauty below. The spot overlooks a small pond below (known for moose sightings), Lake Champlain, and the Adirondack Mountains in neighboring NY that offer spectacular sunsets all four seasons. Travelers should be wary when traveling the mountain road in colder months due to frequent slick or icy road conditions.
Tour the Snowbowl of the valley at Blueberry Lake Cross Country Center. Strap on your cross country skis or snowshoes to journey through eleven trails with enchantingly wooded and open terrain. The trails are curated and maintained with care by the Robinson family and slope graded to provide up and downhill pitches for leisurely touring or ski racing. Take in the sights and sounds of the Vermont woods in the snow with your friends and pets at this historical and treasured nature center.
Image Credits: Sugarbush Resort, Mad River Glen