Vermont Ski Bed & Breakfasts
Are you trying to avoid large hotels so that you can enjoy a quiet ski weekend in Vermont? These small bed & breakfast inns might be just what you are looking for. Many of these have been around since the 1800's and prior, and some are still family owned and operated today.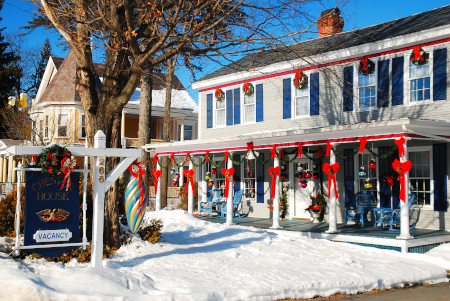 Bed & Breakfast and Small Inn Listings
This section lists bed & breakfasts and small Vermont inns nearby each ski resort. What's the difference between a B&B and an inn? The size, the setup, and the food are the biggest differences. In general, a typical Vermont B&B will be smaller, often with shared bathrooms. A hearty breakfast should be included in the cost but you will usually need to go elsewhere for dinner. However, It is not uncommon for a bed and breakfast to serve dinner now in the VT ski industry.
Inn + 8 Guest Houses
3156 Route 30, Dorset, VT
(802) 867-4455
132 Landgrove Road, Landgrove, VT
(802) 824-6673
15 Guest Rooms
97 Main St, Manchester Center, VT
(802) 362-2336
Reluctant Panther Inn and Restaurant
39 W Rd, Manchester, VT
(802) 362-2568
2353 Main Street, Manchester Center, VT
(802) 362-3830
2001 Depot Street, Manchester, VT
(802) 362-4598
Estabrook House Bed and Breakfast
1596 Main St, St Johnsbury, VT

(802) 751-8261
Burlington, Bolton Valley
Grunberg Haus Bed & Breakfast and Cabins
5+ Guest Rooms and 3 Cabins
94 Pine St, Duxbury, VT
(802) 244-7726
3 Guest Rooms
199 Jericho Road Essex Junction, VT
(802) 899-2417
The Wiliston Village Bed & Breakfast

5 Guest Rooms
25 Slate Barn Drive Williston, VT
(802) 879-2542
9 Guest Rooms
2057 North Main Street, Montgomery, VT
(802) 326-3269
Carriage House Bed & Breakfast

48 Coventry Station Rd, Newport, VT
(802) 754-2685
Couture's Maple Shop and Bed & Breakfast
4 Guest Rooms
560 VT Rt. 100, Westfield, VT
(802) 744 2733
11 Guest Rooms
241 Main Street, Montgomery Center, VT
(802) 326-4391
 Little Gnesta Bed & Breakfast
115 Prospect St, Newport, VT
(802) 624-4930
Mountain View Dairy Bed & Breakfast
725 Poutre Rd, Irasburg, VT 05845
(802) 754-8494
10 Guest Rooms
195 Main Street, Montgomery Center, Vermont
(802) 326-4306
Vermont Traveler's Bed & Breakfast FAQ