What is the #1 Hotel at Every Major Vermont Ski Resort?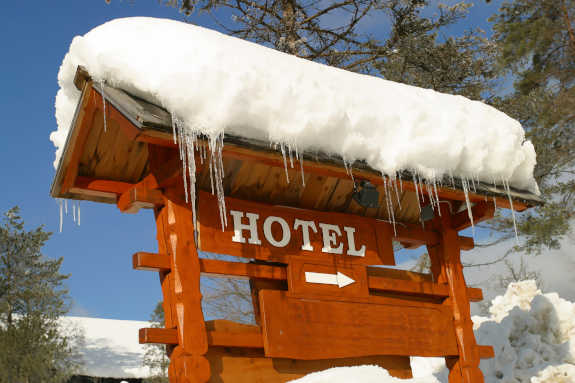 We are hunting down the #1 lodge at every major ski resort in Vermont for this list.
Allowed in this list: hotels, inns, lodges, bed & breakfasts
Not allowed in this list: vacation rental condominiums
What Is Our Criteria?
Proximity to the Resort – This is usually the first factor that we consider. Is a ski lodge within walking distance, ski-in/ski-out, or driving distance?
Online Travelers Ratings – We aggregate and consider traveler ratings from the top 3 online sources: Yelp, Tripadvisor, Google.
Amenities, Food, Quality, Value, Management – This encompasses everything else that we consider. A tiny B&B can be a contender for the #1 spot easily if the property has the right stuff and you will see more than 1 B&B below.
Jay Peak - Tram Haus Lodge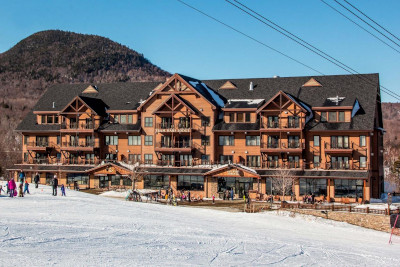 830 N Village Rd, Jay, VT
(802) 988-2500
The Tram Haus Lodge is the highest rated ski lodge at the base of the mountain, and the highlight of this property is its premier location right at the bottom of Jay Peak. Accommodations here include a mix of kitchenettes and full kitchens. There are no claims of extravagant luxury being made, but there is a bar, cafe, and restaurant on-site that give this property enough to get it into the #1 spot for Jay Peak.
Another reason that the Tram Haus is in the #1 spot here is because it is owned by the resort and Jay Peak is keen to offer great ski and stay packages that include lift tickets.
Other notable lodging near Jay Peak:
The Phineas Swann Inn & Spa – This bed & breakfast was originally built in 1847 and is located about 20 minutes from the base of Jay Peak. The Phineas Swann has the highest reviews and ratings in the area + occasional discount lift tickets so this is a contender for the #1 spot at any given time.
The Woodshed Lodge is only about 3 miles from the ski area and it has near-perfect ratings on the major websites. It is more than 100 years old and looks a bit like the name implies it should.
Killington/Pico - The Birch Ridge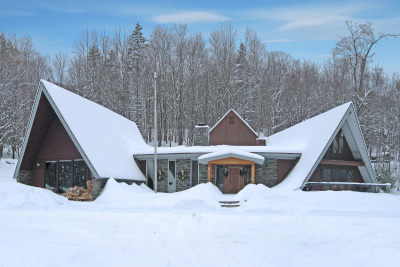 37 Butler Rd, Killington, VT
(802) 422-4293
5 Star Dinner Menu
Close to Mountain
Killington's highest traveler ratings, top-notch food, and being less than a 3 minute drive from the base area are the top reasons to stay here. Even if you stay slopeside in Killington you may wind up driving up and down the access road a lot, so we don't mind naming something away from the base area in the #1 spot for Killington.
The restaurant presents a type of fine dining that you won't find in New York City. It is only open 4 day/week but you can check the menu here if you want to see how they do business in the kitchen. There is also a small bar tucked away in the corner here that is stuffed with spirits.
Other notable lodging near Killington:
Killington Grand – This is the most conveniently located of all the base area lodging at Killington and it is as large as it sounds; quite the opposite of the Birch Ridge. If you want to walk to the slopes, this should be your #1 choice.
Mountain Meadows Lodge – This rustic historical retreat is located at the bottom of the access road and the property is posterized by Kent Pond which is located right outside of the back door. It is close behind in the ratings game and a noteworthy place to consider.
What about Pico? Pico's base area is filled with condominiums that can be rented, but no large mountain hotel/lodge. Killington is just a few minutes away so you can follow our recommendations the same if you are planning on skiing Pico. The Mountain Meadows Lodge gets bumped up the list a bit for Pico skiers due to location and we will also add in The Inn at Long Trail.
Mad River Glen - The Featherbed Inn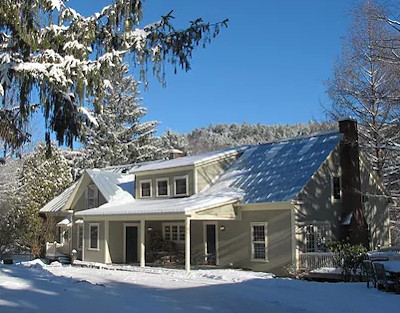 5864 Main St Waitsfield, VT
(802) 496-7151
Close to Mountain
High Traveler Ratings
Historic Inn
Pet-Friendly Cottages
Five stars across the board – and since you won't find any inns at the base of Mad River Glen, The Featherbed Inn was an easy choice for the #1 spot here. The Inn is located in Waitsfield, VT, approx 5 minutes from the lifts. This is a historic property that was originally built circa 1806. It has 9 guest rooms in the main building and two cottage suites that can be rented by guests. Breakfast is prepared by the innkeepers.
Other Notable Lodging Near Mad River Glen:
The Mad River Barn, Yellow Farmhouse Inn, and The Tucker Hill Inn should also be on your radar. You can also visit the Sugarbush list next.
Mount Snow - Grand Summit Resort Hotel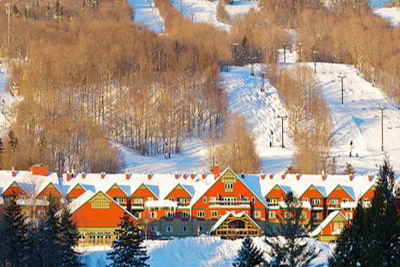 89 Grand Summit Way, West Dover VT
(800) 603-7669
The Grand Summit Resort Hotel is located at the base of Mount Snow, putting this into ski-in/ski-out category and that is tough to beat. This is the highest rated of all the base area lodging at Mount Snow, and the only lodge that is really located right on the slopes (it is owned and operated by Mount Snow).
Other Notable Lodging Near Mount Snow:
If this was based solely on traveler ratings then the Snow Goose Inn would be the clear winner. This is a small luxury inn that is located just down the road from the resort, but it is small and not for everyone, so in the case of Mount Snow we are choosing something that is located right at the base of the mountain. Other notable lodging within driving distance includes the Deerhill Inn and The Gray Ghost Inn.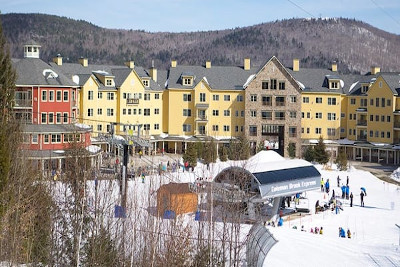 111 Jackson Gore Rd, Ludlow, VT
(802) 228-1400
Ski-In/Ski-Out Location
Family Friendly
The Jackson Gore Inn is a ski-in and ski-out property that is located right at the Jackson base area of Okemo Mountain. You'll find a beginner's skiing and learning area here with magic carpet lifts, as well as snow tubing, an ice skating rink, and other family activities. Location and family-friendly amenities are the strong points of this ski lodge.
Other Notable Lodging Near Okemo:
Solitude Mountain Village is a mid-mountain village where vacation rentals can be booked through the resort. If you value location you should consider this spot. The Mountain Lodge at Okemo is the other large resort-owned property, located at the other base area of the mountain. The Governor's Inn and Pettigrew Inn are also both worth mentioning. These are located in downtown Ludlow. Both are small bed & breakfasts that are highly rated by travelers.
Smugglers' Notch - Club Wyndham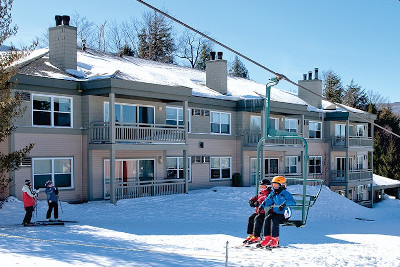 4323 Vermont Rte 108 S, Jeffersonville, VT
(802) 644-8851
This is our top recommendation for anyone that has their heart set on skiing Smugglers' Notch. The Wyndham website does have the tagline "Condo Vacations at Hotel Prices", but there is enough meat to this property for it to be considered more than just a set of vacation rental condominiums. It does have a small restaurant and bar onsite to help it qualify for this list, and it is the only inn-style lodging at the Smugglers' Notch base area.
Your lodging options are greatly expanded once you accept the fact that you may not be staying slopeside here. Stowe is located right next to this ski resort and a lot of the Stowe lodging options will also apply to Smugglers' Notch skiers, so keep on reading
Stowe - The Lodge at Spruce Peak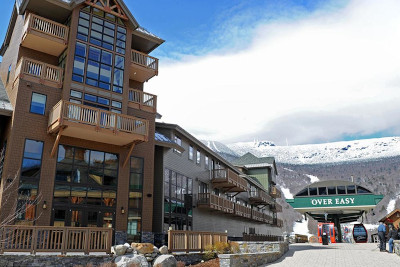 7412 Mountain Rd, Stowe, VT
(802) 282-4625
Ski-In/Ski-Out Location
Near Ice Rink and Shops
The Village at Spruce Peak consists of The Lodge at Spruce peak, a wide range of vacation rental property options, an ice rink, and small pedestrian village with shops. The lodge's location next to the slopes is what makes it our #1 pick for Stowe. This is the only lodging of its kind around the bottom of the mountain here. There is also a kids adventure course and golf club that make this a (near) year-round property. 
This is Destination by Hyatts' flagship hotel in Vermont and they have not skimped on amenities. The food options are plentiful and a family can easily spend their weekend here without ever needing to use their car. Downtown Stowe is less than 10 miles away and this the next best place to look for ski lodging or entertainment beyond what the village has to offer.
Other Notable Lodging Near Stowe:
Other notable lodges that we recommend you check out in this area include the Trapp Family Lodge and the Stone Hill Inn. The Trapp Family Lodge is among the most popular lodges in the area, and the Stone Hill Inn boasts 5 star reviews across all of the major platforms.
Stratton - The Founders Lodge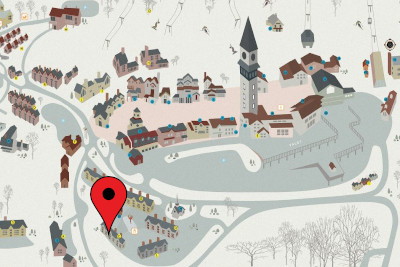 5 Village Lodge Rd, South Londonderry, VT
(800) 787-2886
There are only two places that you can stay at Stratton – right at the mountain, or far, far away from the mountain. You won't find much in between. Manchester is located approx 20 miles away and this can be a long drive in a winter snow storm. If you are heading here for a ski vacation, we suggest that you look for lodging right near the base and you will find no shortage of it there. We have picked the Founders Lodge because it is just a few minutes' walk away from the lifts and has an advantage over some of the other options here. A few of the ski lodges near the base are comprised of privately owned (and often rented) condominiums. This means that they will not always be consistent in quality.
The Founders Lodge has classic woodland styling that utilizes dark colors and classic natural timber framing by Vermont Timber Works. There are a number of other options at the base, most of which are equally suitable. The Landmark at Stratton is among the most centrally located and closest to the lifts, located right below the village clock tower. The Hearthstone Lodge should also be added to your list. You'll notice a lack of online ratings for most of these resort-owned lodges at Stratton and the Founders Lodge does not currently have any ratings on Google or Yelp. The Tripadvisor rating (4.5 as of the last update) has still been included above.
Sugarbush - Clay Brooke Hotel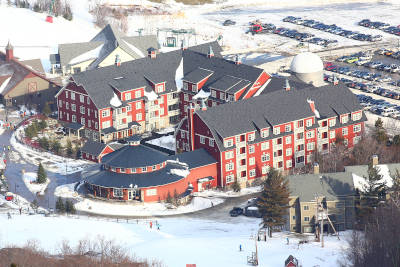 22 Gate House Ln, Warren, VT
(802) 583-6300
Finishing off this list, we have chosen the Clay Brooke Hotel as the top place to stay at Sugarbush. You can't miss this massive lodge at Sugarbush's base area and this is the only hotel-style lodging that is located this close to the lifts. There are several small inns and bed & breakfasts nearby, but this one is a clear winner based on location. The lodge's pool is open year-round and the property also has a game room and fitness gym.
In Colorado you will find ski lodges and hotels that try to mimic the architecture of the Swiss Alps, but here you'll find the opposite. This lodge's design is an ode to the farmhouses and barns that have graced the Vermont landscape for centuries and still help to define its culture today.  Photo: Abby Sessock